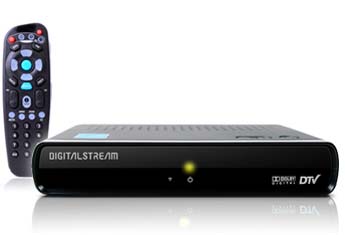 If you haven't got your Government approved DTV converter box yet, here is a current list of the eligible boxes. Major national retailers that are selling the boxes include Best Buy, Circuit City, RadioShack and Wal-Mart. You can find local retailers, online and telephone retailers on the government DTV2009 website.
AMTC AT-2016
APEX DT250*
APEX DT150
AVION ATB 7707
AccessHD DTA1010D
AccessHD DTA1010U
AccessHD DTA1020D
AccessHD DTA1020U
Apex DT1001
Apex DT1002
Artec T3A
Artec T3APro
CADENCE DTVC-9
CASTi CAX-01
COSHIP N9988T
COSHIP N9900T
Channel Master CM-7000
DAYTEK CAX-01
DENCA TBX1005A
DENCA NL8119
DENCA NL8118
DIGITAL STREAM DTX9950*
DIGITAL STREAM DTX9900
DIGITAL STREAM DSP6500R
DIGITAL STREAM DSP7500T
DIGITAL STREAM DSP7700T*
DIGITAL STREAM D2A1D20
DIGITAL STREAM D2A1D10
DIGITAL STREAM DX8700*
Daewoo DAC-100
ECHOSTAR TR-40*
Fuyai ATSC 630
GE 22729
GE 22730
Goodmind DTA1000
Goodmind DTA900
Goodmind DTA980
Gridlink GLT-300
Gridlink GLT-200
Insignia NS-DXA1
Jiuzhou DTT6000
Jiuzhou DTT9001*
Kingbox K8V8
Kingbox K8V1
Lasonic LTA-260
Lasonic LTR-260
MAG CCB7707
Magnavox TB100MW9
Magnavox TB-100MG9*
MaxMedia MMDTVB03
MicroGEM MG2000
Microprose MPI-500
Mustek MAT-K50
OLEVIA DTA100
Philco TB150HH9*
Philco TB100HH9*
RCA DTA800B1*
RCA DTA 800B
RCA DTA 800A
SVA DAC100
Sansonic FT300RT
Sansonic FT300A
Skardin DTR-0727
Synergy Global Supply SYN2009
TATUNG TDB3000
TATUNG TDB3001 *
Tivax STB-T9
Tunbow Electronics E60010
VENTURER STB7766G
WINEGARD RC-DT09
ZINWELL ZAT-856
ZINWELL ZAT-970
Zenith DTT900
Zentech DF2000
Zinwell ZAT-857
Zinwell ZAT-756A
jWIN Electronic Corp JD-TV1000
* The manufacturer has indicated that these models are capable of passing analog signals through to the TV set.
For an up-to-date list visit www.NTIADTV.gov.