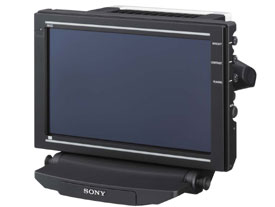 The newest high-definition imaging technology can be seen not only at electronics conventions, but as a display/viewfinder for Sony professional cameras. OLED (Organic Light Emitting Diode) is the newest technology that brings unsurpassed definition and detail to imaging.
The Sony HDVF-EL100 is Sony's first non-consumer application of an OLED panel. The pixel resolution of the viewfinder is 960×540, and delivers a wide range of values a precise sharpness. The 11″ (diagonal) viewfinder will give camera operators an extremely precise rendering of the subject, making focus all that much easier and quicker.
OLED displays were one of the focal points of CES 2008. OLED panels allow a contrast ratio of 1,000,000:1, surpassing most HDTVs. The lack of a backlight allows the displays to control all light emission from zero to peak brightness. OLED technology also boasts being more environmentally friendly than CRT.