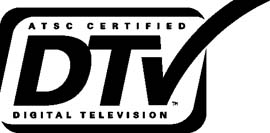 How does DTV work?
Digital channels are broadcast over-the-air from local facilities. All you need is a digital television or digital-to-analog converter box. That means you don't necessarily need cable, satellite or fiber-optic service to get digital or high definition (HD) broadcasts. In fact, over-the-air broadcasting has never been better. Here is a bit of history.
The old days of Analog TV
Most people associate high quality television images with their cable or satellite company. That's because before cable (which preceded satellite in all but the most remote areas), people used antennas to tune-in to channels. More often than not, the channels were blurry, snowy, and intermittent. Cable made watching television so much more consistent and enjoyable.
Along comes DTV
Digital television (DTV) is a telecommunication system that transmits signals digitally. What is convenient is that the digital signals take up less bandwidth than the analog signals. So, broadcasters are able to split channels into several signals, allowing for multi-casting. For example, "Channel 7", can also have other channels associated with it like "Channel 7-1", "Channel 7-2", and so on.
HDTV and HD Radio
HDTV, along with HD Radio (which is actually just digital radio), are the obvious evolutions of the ability to transmit digital signals. Both technologies provide virtually interference-free signals (except for the occasional drop out), and allow for multi-casting.
HD channels over-the-air
HD channels, enabled by DTV, make regular (non-HD) broadcasts from cable and satellite look horrible by comparison. HD channels are available to anyone who has an antenna and an HDTV. The number of channels you pick up will depend on your location and power of the antenna. However, the signals you do pick up should be extremely high quality in both picture and sound.