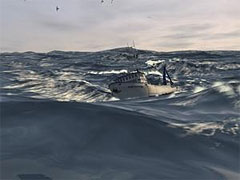 Greenwave Games out of Seattle announces "Deadliest Catch Alaskan Storm" to be released in April 2008 for Xbox 360 and PCs. In the game you will captain your own boat, battle giant waves, storms and ice with a fatigued and hungry crew.  The creators say the game "features the best wave effects in a video game to date."
"Deadliest Catch Alaskan Storm" takes you through 34,000 miles of Bering Sea coastline that used actual United States Geological Survey Data. Weather and fishing conditions are also based on actual data, and get progressively worse to increase the challenge.
Gamers select one of 5 crab boats, one of them being the Northwestern which is featured on the Discovery Channel show. In addition, Greenwave Games claims this is the first video game to feature United States Coast Guard vessels and helicopters.