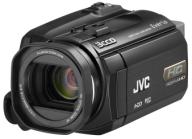 On Jan. 30 JVC announced a pair of new high definition Everio hard disk camcorders that offer industry-leading picture quality in a dramatically reduced size. The new JVC GZ-HD6 and GZ-HD5 HD camcorders are 45 percent smaller than JVC's previous top-end HD camcorder, the GZ-HD7, without any sacrifice in image quality.Both new HD camcorders feature a FUJINON HD lens, a progressive scan 3CCD imaging system and JVC's HD Gigabrid engine that delivers 1920 x 1080 Full HD recording. In addition, they offer 1080p 60 frame per second output via HDMI 1.3 with x.v.Color(TM). Collectively these technologies capture and maintain optimum
image quality for videos and stills through every stage, from the lens on through to recording.
Both camcorders offer a long recording time in 1920 x 1080 Full HD —
10 hours for the 120GB GZ-HD6 and five hours for the 60GB GZ-HD5. They
record up to 24 (GZ-HD6) or 12 (GZ-HD5) hours in the 1440 LP mode.
Recordings are stored on either the built-in hard disk drive or on an
inserted microSD card (optional). Both models also offer a microphone input
and a wide range of manual controls. The black GZ-HD6 also features a lens
hood and headphone jack. The smaller silver GZ-HD5 weighs just 1 lb 3.9 oz
with battery.