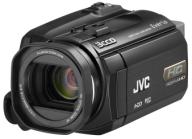 Both camcorders offer a long recording time in 1920 x 1080 Full HD —
10 hours for the 120GB GZ-HD6 and five hours for the 60GB GZ-HD5. They
record up to 24 (GZ-HD6) or 12 (GZ-HD5) hours in the 1440 LP mode.
Recordings are stored on either the built-in hard disk drive or on an
inserted microSD card (optional). Both models also offer a microphone input
and a wide range of manual controls. The black GZ-HD6 also features a lens
hood and headphone jack. The smaller silver GZ-HD5 weighs just 1 lb 3.9 oz
with battery.