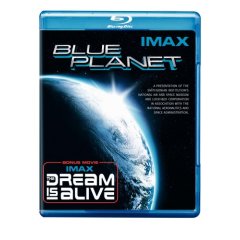 IMAX: Blue Planet (Warner)
Featuring: The Beautiful Planet Earth
Imagine being a visitor from another planet (go ahead, imagine it!)… your approach to Planet Earth would be breathtaking in its scope as the small fuzzy blue dot becomes a blue-green and white sphere where obvious weather activity is taking place, but on closer inspection… wait! there seems to be spectacular changes taking place right before your eyes.
That weather activity is changing the landscape while unseen seismic activity is also causing spectacular change that can be seen with surface volcanoes violently spewing forth, roiling the oceans and changing flatland into mountaintop. Earth's dynamic changes, seen from space, is what drives this beautiful looking HD release. While the narration (by writer Toni Myers) is a little stiff and not as interesting as the image, the image of Earth against the inky-blackness of space is what makes this film worth owning on Blu-ray or HD DVD.
Ben Burtt was sound designer on IMAX's The Dream is Alive (included on both Blue Planet hi-def DVD releases this week), which was directed by Graeme Ferguson and written by Toni Myers. Myers returns as the writer of Blue Planet with Ferguson now producing and Ben Burtt directing the spectacular show. Fans of the Star Wars series may remember Burtt as the dual-trilogy's sound designer (and eventual sound/film editor), having come up with, from scratch, all the sounds needed to populate Lucas's imaginary galaxy.
Now, in the truly soundless environment of space, Burtt was able to supervise the filming of Earth footage (actually shot over five space shuttle missions by the astronauts themselves), as well as amazing looking ocean and land-based footage of our home planet. The theatrical IMAX film, though offering a stupendous (and huge) image in special large-format IMAX theaters, suffered from a short running time (42 minutes… most IMAX films are under 50 minutes) and narration that was a bit too-mellow, hardly enlightening the viewer any more than the standard Discovery channel documentary (and compared to the recent BBC/Discovery Planet Earth releases, it falls short of the mark set by that landmark work).
Those flaws are exacerbated on the video releases, though the Blu-ray and HD DVD releases actually make them easier to take… again, the point of owning this film in either hi-def format is the image itself. The Blu-ray disc presents a remastered transfer by Warners (VC-1 encoded, 1080p of course) in a 1.78 widescreen ratio. The image is simply excellent with very little to complain about here: the remastered image from a formerly large-format IMAX film stands up pretty well to videophile scrutiny, but I believe that the BBC Planet Earth Blu-ray effort is superior… there's just a little banding here n' there on this disc, noticeable in the darkest blues, reds and warmer colors. The audio features an out-of-this-world DD MLP lossless 5.1 mix that offers plenty of spatial usage of the surround channels while kicking out a full range of mids and highs… this does nothing to salvage the mostly uninteresting narration though.
There's also a standard DD 5.1 surround mix in French and English (subtitles are in English). The only special feature is the 1985 IMAX film, The Dream is Alive (remastered in 1080p) which covers the early days of NASA's space shuttle development and missions. Of interest for space-travel and NASA buffs, the film spends quite a bit of time on the space shuttle Challenger, which would be destroyed on launch within a year of this film's release (some of that doomed mission's crew are featured in this IMAX film).
It's a very nice compliment to Blue Planet but, let's face it, the magic of IMAX films is the ability to see them in an IMAX theater. Unfortunately, no matter how good your hi-def theater system is (unless your one of those who can afford to mimic the IMAX experience at home somehow), these films lose a lot of their large-format impact. This is not to say they don't look good in hi-def, but the overall visual stimulation is brought down considerably for the smaller screens of the home theater.
Blue Planet (IMAX)
| Reg:
$28.99
| Sale: $17.99 |
Order Now