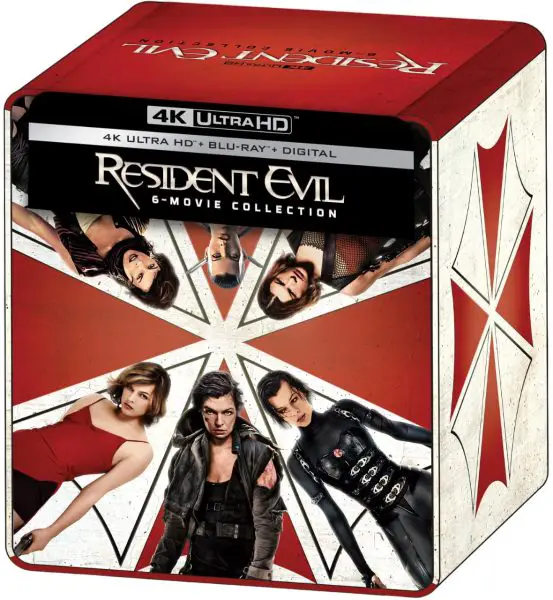 Sony Pictures Home Entertainment has packaged six Resident Evil-franchise movies directed (or co-directed) by Paul W. S. Anderson and starring Milla Jovovich for release in a 6-movie SteelBook collection on November 21, 2023.
The live-action Resident Evil films include Resident Evil, Resident Evil: Afterlife, Resident Evil: Apocalypse, Resident Evil: Extinction, Resident Evil: Retribution, and Resident Evil: The Final Chapter. 
In the collection, each film is presented on 4k UHD (2160p) Blu-ray and HD (1080p) Blu-ray and encased in a premium SteelBook case. Codes to redeem Digital Copies of each film are also provided.
The Resident Evil movies were previously released on 4k Blu-ray in the Limited Edition Digipac in 2020, but this new collection now features Dolby Vision (in addition to HDR10) with all films.
The collection also includes all previously released bonus features, along with new featurettes from Resident Evil: The Final Chapter.
The Resident Evil 6-Movie 4k UHD/BD Collection arrives on November 21, 2023. MSRP: $239.99 | Price: $169.99 Buy on Amazon
Special Features
All six movies packaged in Steelbook cases in a premium outer case featuring bold Umbrella Corp styling.
Collects all previous Special Features, including newly added featurettes from Resident Evil: The Final Chapter.
All films now presented with Dolby Vision.
Product Description
Experience the exhilarating epic journey of Resident Evil from beginning to end, with all six films on 4K Ultra HD in the Resident Evil: The Complete Collection!
Film Synopses
Resident Evil
A team of paramilitary commandos must battle flesh-eating, undead, killer mutant dogs and a supercomputer's deadly defenses before an unleashed virus consumes humanity in this adaptation of the hit video game series!
Resident Evil: Apocalypse
After narrowly escaping the horrors of the underground Hive facility, Alice (Milla Jovovich) is quickly thrust back into a war raging above ground between the living and the Undead. It's a heart-pounding race against time as the group faces off against hordes of blood-thirsty zombies, stealthy Lickers, mutant canines and the most sinister foe yet.
Resident Evil: Extinction
Milla Jovovich is back to kill more zombies in the third chapter of the hit Resident Evil franchise! Survivors of the Raccoon City catastrophe travel across the Nevada desert, hoping to make it to Alaska. The newly upgraded Alice (Jovovich), along with her crew (Oded Fehr, Mike Epps, Ali Larter, Ashanti) will make a final stand against evil – with one goal: to turn the undead dead again.
Resident Evil: Afterlife
After a one-woman assault on the Umbrella Corporation's fortress, Alice's (Milla Jovovich) superhuman abilities are neutralized. Now, fleeing the Undead masses created by the T-virus, Alice reunites with Claire Redfield (Ali Larter) and her brother, Chris (Wentworth Miller). Together they take refuge with other survivors in an abandoned prison, where a savage zombie mob stands between them and the safety of "Arcadia." Escaping these bloodthirsty mutants will take an arsenal. But facing off with Albert Wesker and the Umbrella Corporation will take the fight for survival to a new level of danger.
Resident Evil: Retribution
Umbrella Corporation's deadly T-virus is spreading across the globe, transforming ordinary people into legions of undead. Headed for extinction, the human race has just one hope: Alice (Milla Jovovich). She's on a mission, fighting her way through cities and across continents, all inside Umbrella's prime research facility. Old friends become new enemies as she battles to escape and discovers that everything that she believes may not even be true.
Resident Evil: The Final Chapter
Picking up after Resident Evil: Retribution, Alice (Milla Jovovich) is the only survivor of what was meant to be humanity's final stand against the undead. Now, she must return to where the nightmare began – The Hive in Raccoon City, where the Umbrella Corporation is gathering its forces for a final strike against the only remaining survivors of the apocalypse.
Article updated: Original publish date Sept. 26, 2023.