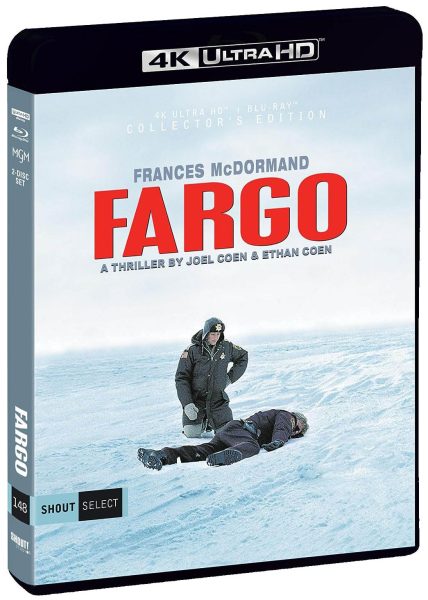 2x Oscar-winning film Fargo (1996) is getting released on 4k Blu-ray for the first time. The film, written, produced, and directed by Joel and Ethan Coen, received a total of 7 nominations at the 2000 Academy Awards and won for Best Actress (Frances McDormand) and Best Original Screenplay (the Coens).
On 4k Blu-ray, Fargo is presented in 2160p resolution with Dolby Vision/HDR10. The newly-restored film was supervised by cinematographer Roger A. Deakins. The aspect ratio is the original 1.85:1 format. The English soundtrack is provided in DTS-HD Master Audio 5.1.
Bonus features include audio commentary from Roger A. Deakins, "Minnesota Nice" featurette, an interview with the Coen Brothers and actor Frances McDormand, still photo gallery, and more.
The Fargo (1996) 4k Blu-ray/Blu-ray 2-disc edition from Shout! Factory's "Shout Select" label is priced $28.99 (List: $36.98) on Amazon.
Special Features
Audio Commentary With Roger A. Deakins
"Minnesota Nice"
Interview With The Coen Brothers And Actor Frances McDormand
American Cinematography Article
Original Trailer And TV Spot
Still Photo Gallery
Optional English subtitles for the main feature
Description: Written and directed by Joel and Ethan Cohen (No Country for Old Men, O Brother, Where Art Thou?, The Big Lebowski), this crime thriller features an all-star cast including Frances McDormand, William H. Macy, Steve Buscemi, Peter Stormare and more.
In this seven-time Oscar®-nominated film*, things go terribly awry when small-time Minnesota car salesman Jerry Lundegaard (William H. Macy) hires two thugs (Steve Buscemi and Peter Stormare) to kidnap his wife so he can collect the ransom from his wealthy father-in-law. Once people start dying, the very chipper and very pregnant Police Chief Marge Gunderson (Frances McDormand) takes the case. Is she up for this challenge? You betcha.
Byline: Minnesota car salesman Jerry Lundegaard's inept crime falls apart due to his and his henchmen's bungling and the persistent police work of the quite pregnant Marge Gunderson.