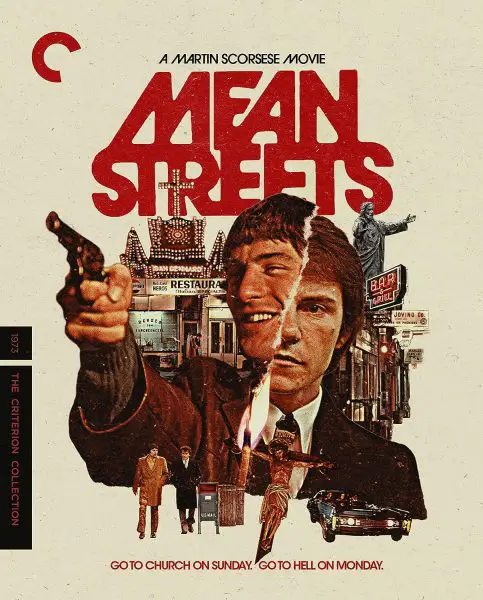 Martin Scorsese's Mean Streets (1973) has been digitally restored in 4k for release on Ultra HD (2160p) Blu-ray and HD (1080p) Blu-ray. The 4k presentation (approved by director Martin Scorsese and editor Thelma Schoonmaker) features Dolby Vision/HDR10 and uncompressed monaural soundtrack.
The 2-disc 4k Blu-ray/Blu-ray edition and single-disc 2k Blu-ray edition (with newly restored film) arrive on November 21, 2023, from The Criterion Collection.
The 4k UHD/BD edition of Mean Streets (1973) from The Criterion Collection has an MSRP of $49.95. Price: $34.99 (Amazon). The single-disc Blu-ray edition has an MSRP of $39.96 Price: $27.99 (Amazon).
DIRECTOR-APPROVED 4K UHD + BLU-RAY SPECIAL EDITION FEATURES
New 4K digital restoration, approved by director Martin Scorsese and editor Thelma Schoonmaker, with uncompressed monaural soundtrack
One 4K UHD disc of the film presented in Dolby Vision HDR and one Blu-ray with the film and special features
Excerpted conversation between Scorsese and filmmaker Richard Linklater from a 2011 Directors Guild of America event
Selected-scene audio commentary featuring Scorsese and actor Amy Robinson
New video essay by author Imogen Sara Smith about the film's physicality and portrayal of brotherhood
Interview with director of photography Kent Wakeford
Excerpt from the documentary Mardik: Baghdad to Hollywood (2008) featuring Mean Streets co-writer Mardik Martin as well as Scorsese, journalist Peter Biskind, and filmmaker Amy Heckerling
Martin Scorsese: Back on the Block (1973), a promotional video featuring Scorsese on the streets of New York City's Little Italy neighborhood
Trailer
English subtitles for the deaf and hard of hearing
PLUS: An essay by critic Lucy Sante
Byline: A small-time hood tries to keep the peace between his friend Johnny and Johnny's creditors.
Description: Martin Scorsese emerged as a generation-defining filmmaker with this gritty portrait of 1970s New York City, one of the most influential works of American independent cinema. Set in the insular Little Italy neighborhood of Scorsese's youth, Mean Streets follows guilt-ridden small-time ringleader Charlie (Harvey Keitel) as he deals with the debts owed by his dangerously volatile best pal, Johnny Boy (Robert De Niro), and pressure from his headstrong girlfriend, Teresa (Amy Robinson). As their intertwined lives spiral out of control, Scorsese showcases his precocious mastery of film style—evident in everything from his propulsive editing rhythms to the lovingly curated soundtrack—to create an electrifying vision of sin and redemption.