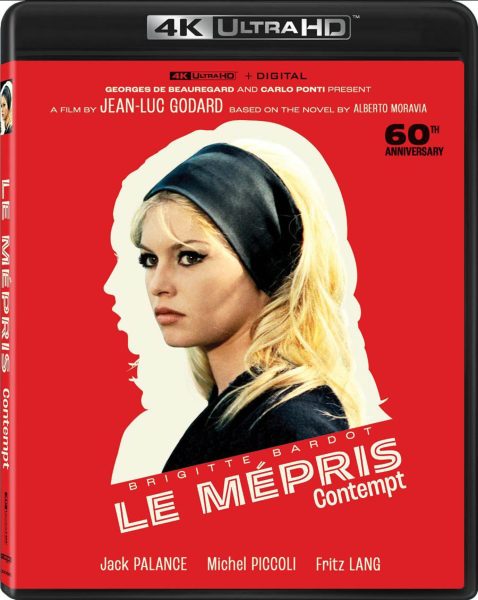 Jean-Luc Godard's Le Mépris (1963) celebrates its 60th Anniversary this year with a newly restored 4k UHD presentation on Ultra HD Blu-ray. A 2-disc edition and single-disc edition arrive on October 24, 2023 in US from Lionsgate & StudioCanal.
The 4k UHD remaster of Le Mépris is presented in 2160p at 2.35:1 aspect ratio with Dolby Vision and HDR10. French and English audio is formatted in the orginal mono track in DTS-HD Master Audio 2.0.
Le Mépris (1963) 4k Ultra HD 2-disc edition is priced $31.99 and a single-disc ediion $27.72 on Amazon.
Description: Featuring the style icon Brigitte Bardot (And God Created Woman, Viva Maria!) as Camille, and legendary French talent Michel Piccoli (Belle De Jour, The Things of Live) as Paul, LE MÉPRIS boasts a strong and eclectic supporting cast featuring 'master of darkness' Director, Fritz Lang as himself, renowned American actor Jack Palance as Jeremy, and the infamous Giorgia Moll as Francesca. The restoration also features the original and unforgettable soundtrack, 'Theme of Camille', which has gained worldwide admiration in its own right, by multi-award-winning composer, Georges Delerue.
Synopsis: Set around the extraordinary Villa Malaparte on Capri; LE MÉPRIS tells the tragic romance between Paul and his wife, Camille. Paul is enlisted the task of re-writing a film script. Whilst he becomes engrossed in writing, he appears oblivious to the film producer's interest in his irresistibly beautiful wife, Camille. In turn, we witness the hurtful unfolding of Paul & Camille's marriage.
Related Tags: #JeanLucGodard #BrigitteBardot #MichelPiccoli #JackPalance #FritzLang #PhysicalMedia #FrenchFilm #UltraHD #PaidLink