John Woo's Face/Off (1997) starring John Travolta and Nicolas Cage is releasing on 4k Ultra HD Blu-ray in a combo edition with a new 1080p presentation on Blu-ray. The film was recently restored from the original camera negatives and remastered with Dolby Vision HDR.
The 2-disc edition from Kino Lorber includes a 4k UHD Bonus features on the 1080p Blu-ray include seven deleted scenes, The Making of Face/Off 64-minute documentary, John Woo: A Life in Pictures featurette, and more.
New audio commentary from action film historians Mike Leeder and Arne Venema is offered on both the 4k Blu-ray and Blu-ray discs, along with legacy audio commentary from Director John Woo and Writers Mike Werb and Michael Colleary (on one track) and Writers Mike Werb and Michael Colleary on a separate track.
Description: Obsessed with bringing terrorist Castor Troy (Nicolas Cage) to justice, FBI agent Sean Archer (John Travolta) tracks down Troy, who has boarded a plane in Los Angeles. After the plane crashes and Troy is severely injured, possibly dead, Archer undergoes surgery to remove his face and replace it with Troy's. As Archer tries to use his disguise to elicit information about a bomb from Troy's brother, Troy awakes from a coma and forces the doctor who performed the surgery to give him Archer's face.
Face/Off (1997) 4k UHD/BD edition is list priced $39.95 US. Buy on Amazon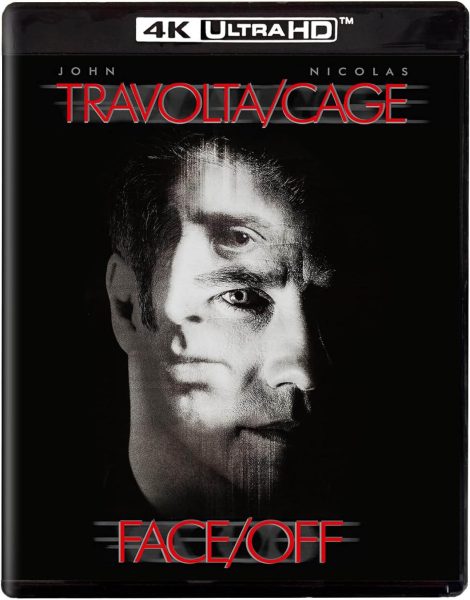 Special Features and Technical Specs:
Disc 1 – 4k Ultra HD Blu-ray
NEW 4K RESTORATION FROM THE ORIGINAL CAMERA NEGATIVE
DOLBY VISION/HDR PRESENTATION OF THE FILM
NEW Audio Commentary by Action Film Historians Mike Leeder and Arne Venema
Audio Commentary by Director John Woo and Writers Mike Werb and Michael Colleary
Audio Commentary by Writers Mike Werb and Michael Colleary
Optional English Subtitles
Disc 2 – Blu-ray
NEW 4K RESTORATION FROM THE ORIGINAL CAMERA NEGATIVE
NEW Audio Commentary by Action Film Historians Mike Leeder and Arne Venema
Audio Commentary by Director John Woo and Writers Mike Werb and Michael Colleary
Audio Commentary by Writers Mike Werb and Michael Colleary
Seven Deleted Scenes – with Optional Audio Commentary by Director John Woo and Writers Mike Werb and Michael Colleary

Castor Kills the Janitor (0:36)
Archer Weeps (1:09)
Childhood Lessons (1:05)
Hideaway Shootout (2:03)
Archer vs. Caster Finale (2:12)
Will Dad be Dad Again (0:11)
Alternate Ending (1:08)

The Light and the Dark: The Making of Face/Off Documentary (64:20)

Science Fiction/Human Emotion (9:44)
Cast/Characters (17:22)
Woo/Hollywood (21:34)
Practical/Visual Effects (9:41)
Future/Past (5:56)

John Woo: A Life in Pictures – Featurette (26:03)
Theatrical Trailer (2:08)
Optional English Subtitles