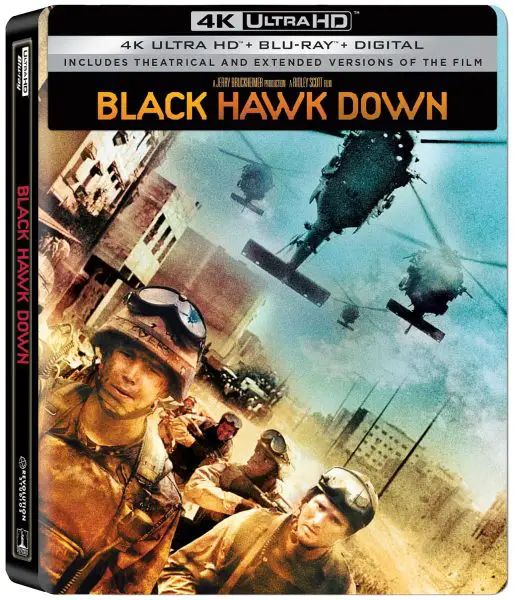 Ridley Scott's Black Hawk Down (2001) will be re-released on 4k Ultra HD Blu-ray with Dolby Vision HDR (the previous 4k release only offered HDR10). The Limited Edition 4k SteelBook arrives November 7, 2023, and features both the Theatrical and Extended versions of the film in 4k on one BD-100.
On 4k Blu-ray, Black Hawk Down is presented in 2160p at 2.40:1 aspect ratio with Dolby Vision and HDR10 High Dynamic Range formats. The soundtrack is offered in Dolby Atmos / Dolby TrueHD 7.1 as well as DTS-HD Master Audio 5.1. Subtitles are provided in English SDH, French, and Spanish.
Hours of bonus features on the third Blu-ray Disc include a documentary, deleted scenes, production design archive, featurette, photo album, storyboards, and more. Audio commentaries are provided with the presented with the film and select bonus content.
Black Hawk Down 4k Blu-ray Limited Edition SteelBook has an MSRP of $45.99. Buy on Amazon (includes pre-order price guarantee).
New Features
Returning to 4K UHD as a limited edition SteelBook
The feature now includes Dolby Vision, plus existing Dolby Atmos audio
Includes hours of special features!
3-Disc Details
Disc 1 (4k Blu-ray)
Both Theatrical and Extended Versions of the film presented in 4K resolution from the original camera negative, both with Dolby Vision
Dolby Atmos and 5.1 audio on both versions
Disc 2 & 3 (Blu-ray)
Theatrical Version of the film presented in high-definition
Audio Commentary by Director / Producer Ridley Scott & Producer Jerry Bruckheimer
Audio Commentary by Author Mark Bowden & Screenwriter Ken Nolan
Audio Commentary by Task Force Ranger Veterans
"The Essence of Combat: Making Black Hawk Down" Documentary
The History Channel® Presents: "The True Story of Black Hawk Down"
PBS Presents: "Frontline: Ambush in Mogadishu"
8 Deleted & Alternate Scenes with Optional Commentary
"Designing Mogadishu" Featurette
Production Design Archive
Storyboards with Optional Commentary
Ridleygrams with Optional Commentary
Target Building Insertion: Multi-Angle Sequence with Optional Commentary
Q&A Forums: BAFTA. Motion Picture Editor's Guild & American Cinematheque
Jerry Bruckheimer's BHD Photo Album
Title Design Explorations with Optional Commentary
"Gortoz A Ran – J'Attends" Music Video performed by Denez Prigent & Lisa Gerrard
Photo Galleries
Theatrical Poster Concepts
Trailer & TV Spots
Black Hawk Down won two Oscars (Best Film Editing & Best Sound) and was nominated for two other Oscars including Best Director and Best Cinematography. It features an all-star cast that includes Josh Hartnett, Ewan McGregor, Tom Sizemore, Eric Bana, William Fichtner, Sam Shepard, Ewen Bremner, Tom Hardy, Orlando Bloom, and Gabriel Casseus among others who contribute to this action-packed thriller.
Product Description: From acclaimed director Ridley Scott (Gladiator, Hannibal) and renowned producer Jerry Bruckheimer (Pearl Harbor, Armageddon) comes a gripping true story about bravery, camaraderie and the complex reality of war. Black Hawk Down stars an exceptional cast including Josh Hartnett (Pearl Harbor), Ewan McGregor (Moulin Rouge!), Tom Sizemore (Saving Private Ryan), Eric Bana (Chopper), William Fichtner (The Perfect Storm), Ewen Bremner (Snatch) and Sam Shepard (All The Pretty Horses). In 1993, an elite group of American Rangers and Delta Force soldiers are sent to Somalia on a critical mission to capture a violent warlord whose corrupt regime has lead to the starvation of hundreds of thousands of Somalis. When the mission goes terribly wrong, the men find themselves outnumbered and literally fighting for their lives.