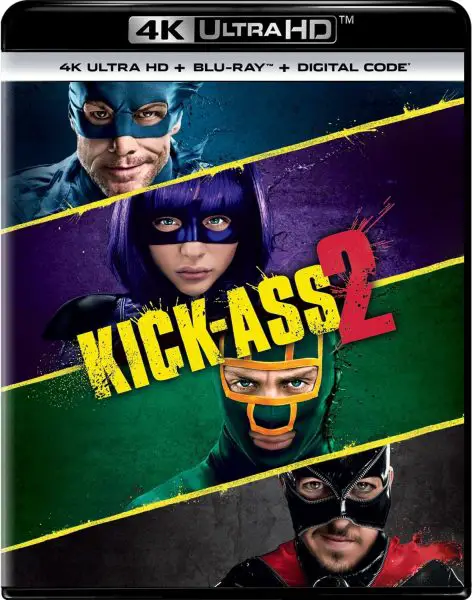 Kick-Ass 2 is now available on 4k Ultra HD Blu-ray. The film released on Sept. 12, 2023 in both a standard plastic-case edition and a Limited Edition 4k SteelBook. Each combo edition from Universal/SDS includes a
On 4k Blu-ray, Kick-Ass 2 is presented in 2160p resolution with HDR10 High Dynamic Range. The English soundtrack is offered in DTS:X with alternative languages in DTS Digital Surround 5.1. Subtitles are also provided in multiple languages.
Kick-Ass 2 on 4k Blu-ray is priced $21.99 (List: $29.98) on Amazon. while the 4k SteelBook is priced $29.99 from Best Buy.
Special Features
Includes 4K UHD, Blu-ray and a digital copy of Kick-Ass 2 (Subject to expiration. Go to NBCUCodes.com for details.)
Features High Dynamic Range (HDR10) for Brighter, Deeper, More Lifelike Color
Alternate Opening with Optional Commentary by Writer/Director Jeff Wadlow
Big Daddy Returns: The Unshot Scene
Extended Scenes with Optional Commentary by Writer/Director Jeff Wadlow
The Making of Kick-Ass 2: Upping the Game
The Making of Kick-Ass 2: An Ass-Kicking Cast
The Making of Kick-Ass 2: Going Ballistic: Weapons & Stunts
The Making of Kick-Ass 2: Creating a Badass World
The Making of Kick-Ass 2: Street Rules: Showdown at the Evil Lair
Hit Girl Attacks: Creating the Van Sequence
The B**** is Back: Chloë Grace Moretz is Hit Girl
Mother Russia Mayhem
Making the Cut: Adventures in Post-Production
The Saga Continues…Kick-Ass in the Comics
Feature Commentary with Aaron Taylor-Johnson, Christopher Mintz-Plasse, Chloë Grace Moretz and Writer/Director Jeff Wadlow
Big Daddy Returns: The Unshot Scene with Optional Commentary by Writer/Director Jeff Wadlow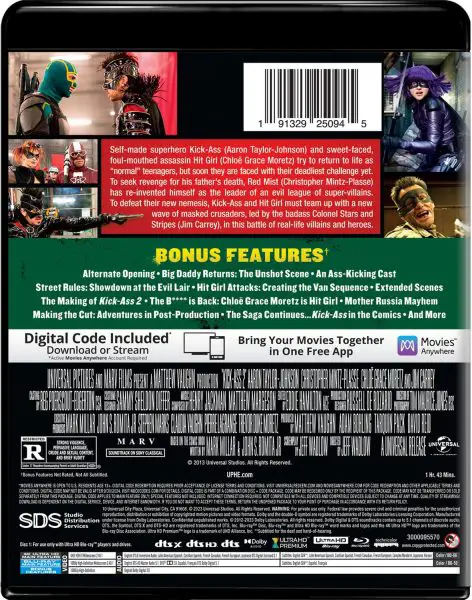 4k Blu-ray SteelBook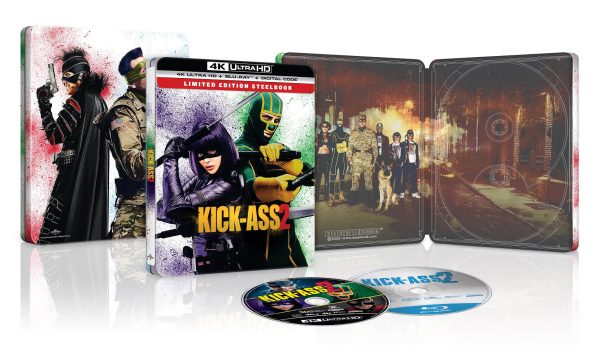 Synopsis: Self-made superhero Kick-Ass (Aaron Taylor-Johnson) and sweet-faced, foul-mouthed assassin Hit Girl (Chloë Grace Moretz) try to return to life as "normal" teenagers, but soon they are faced with their deadliest challenge yet. To seek revenge for his father's death, Red Mist (Christopher Mintz-Plasse) has re-invented himself as the leader of an evil league of super-villains. To defeat their new nemesis, Kick-Ass and Hit Girl must team up with a new wave of masked crusaders, led by the badass Colonel Stars and Stripes (Jim Carrey), in this battle of real-life villains and heroes.
Bonus Content: