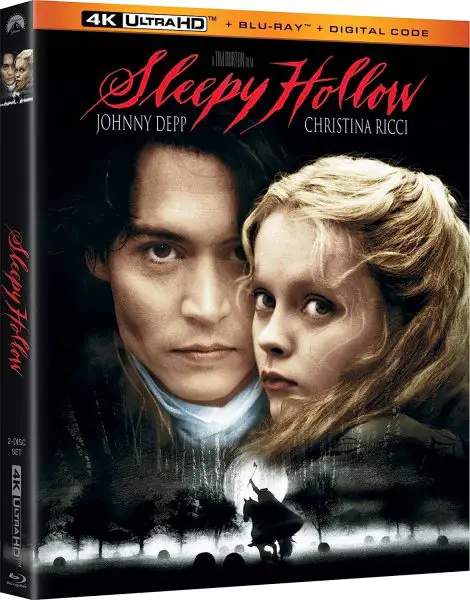 Tim Burton's Sleepy Hollow was remastered for the release on 4K Ultra HD Blu-ray. The movie arrived in two different editions on September 5, 2023, including a Limited Edition 4K Blu-ray SteelBook in Digibook packaging. The Limited Edition is the same packaging offered in a previous 1080p Blu-ray release in 2019, but is nevertheless an impressive piece of physical media that was certainly worth reprinting. Here is a review of the 4k presentation of Sleepy Hollow. 
Movie 
Based on Washington Irving's 1820 short story The Legend of Sleepy Hollow, Sleepy Hollow follows Ichabod Crane, an investigator sent from New York City to investigate a series of murders. The screenplay was written by Andrew Kevin Walker based on the story by Walker and Kevin Yagher, who was originally supposed to direct the film but ended up supervising the visual effects.   
Sleepy Hollow has somewhat of a cult status given the Gothic nature of its presentation and story, and is highly regarded as one of the better movies created by Tim Burton. The supernatural horror film stars Johnny Depp as Ichabod Crane, Christina Ricci as Katrina Van Tassel, and Christopher Walken as the Headless Horseman. Sleepy Hollow won an Oscar for Best Art Direction – Set Decoration and was nominated for Best Cinematography and Best Costume Design.
Video
The 4k 2160p 10-bit video is enhanced with Dolby Vision and HDR10 on screens that support the formats. The expanded color depth adds more detail in highlight and shadow areas. One should note that there are lots of caves and shadowy dead trees that add to the dramatic look to the film, and those areas tend to get crushed in lower-quality presentations. But not in 4k with HDR. The Tree of the Dead that the heroes Crane, Van Tassel, and Young Masbath discover is one of the defining moments in the film. The grotesque chopping of the tree is more realistic in HDR with blood that you can almost smell.
Grain is prevalent especially when viewed on larger screens, but not enough to detract from the overall visual presentation. There is a painterly quality to the images that harkens back to the Renaissance movement. The lighting can attest to this, displaying a diffused palette that is subtle in values. The movie certainly has better color range than other 90s films we have reviewed. Bitrates were tracked in the 50s, 60s, and 70s, with noticeable peaks in the mid-90s, although, it was hard to attribute any bitrate average to a type of scene (night, daytime, or detailed), but rather seemed arbitrary throughout the playback. Nevertheless, the color grading of the HDR presentation is skillfully done, delivering a consistently dreary visual style.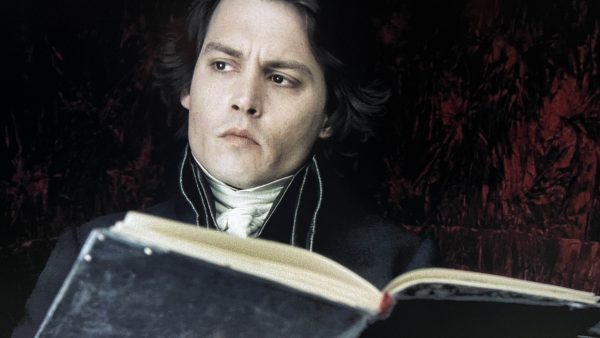 Audio
Sleepy Hollow offers a DTS-HD Master Audio 5.1 soundtrack, a slight change from previous Dolby Digital 5.1 formats. Both are lossy, but the DTS is known to play at higher bitrates. The movie delivers a mostly frontal audio experience, but does distribute some sound to rear and side speakers during more intense scenes made even more so by the dramatic music composition by Danny Elfman. 
The dialogue can be set back at times, urging viewers to crank up the sound a little bit for clarity. Sound effects and ambient noises also may have been better distributed in the surround mix (of course, TrueHD 7.1 or Atmos mix would have been great to hear), but nevertheless, the audio does provide a dynamic experience with crisp high levels and enough push in the lows for contrast.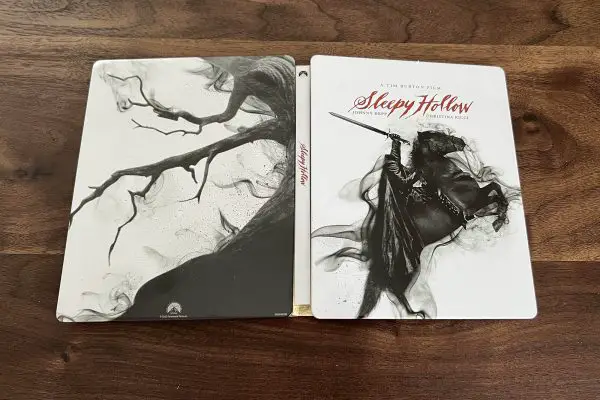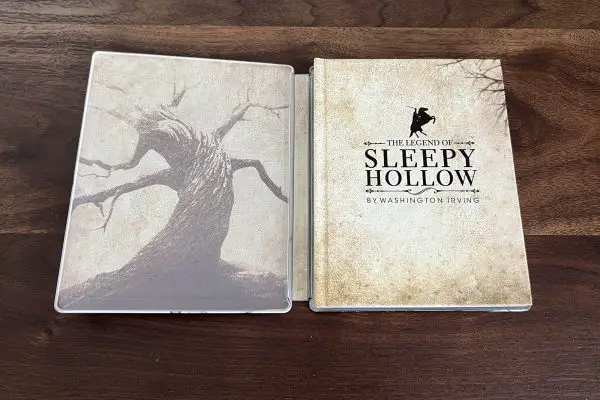 Bonus Material & Packaging
We were lucky to get our hands on a 4K SteelBook Edition, a quality production from Paramount that includes a photo book with Washington Irving's short story The Legend of Sleepy Hollow. The Digibook and case were carried over from a previous Blu-ray edition so there is no real surprise here. For some though, the surprise might be the 1080p Blu-ray that is hidden underneath the 4K Blu-ray. This case only has one slot, so unless you pull out the 4k disc you would never know! We would've loved to see an illustration, photo, or text on the last page of the book rather than a blank page. Other than that, the artwork lends well to the steel case and is perfect for showing off on a bookshelf full of other movie memorabilia and physical media. 
Legacy extras include:
Director Commentary
Sleep Hollow Behind the Legend
Reflections on Sleepy Hollow
Teaser Trailer
Theatrical Trailer
Previews
Summary
For fans of the genre and Tim Burton movies, Sleepy Hollow on 4k Blu-ray is worth the price of admission. For home theater enthusiasts, the movie presents a unique visual experience that is a bit different than the blockbuster Marvel and DC films that have become so prevalent. The movie is full of grain, sometimes diluting sharpness, but not at all a dealbreaker as the grain just adds to its character. The DTS-HD Master Audio 5.1 format is a clean mix that delivers some immersion at times, but is more recognized by the trademark compositions by Elfman. The SteelBook physical media edition gets about a 9 out of 10 for its collectibility.
Scores
Movie
4/5
Video
4/5
Audio
3.5/5
Bonus Materials (SteelBook Packaging)
5/5