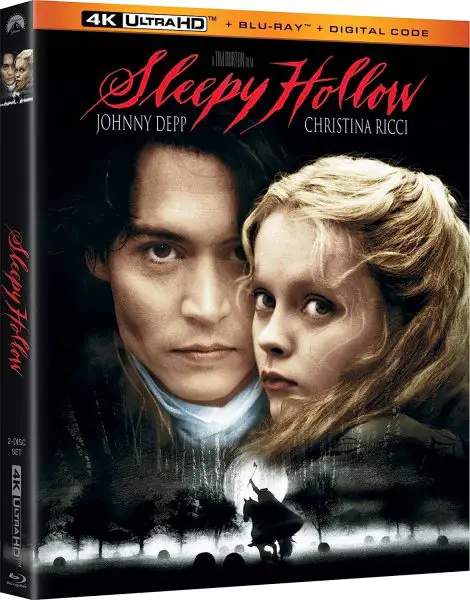 Tim Burton's gothic supernatural film Sleepy Hollow (1999) starring Johnny Depp and Christina Ricci will release on 4k Ultra HD Blu-ray for the first time. The 2-disc editions from Paramount Home Media Distribution arrive Sept. 5, 2023, in a standard plastic case edition with slipcover and a Limited Edition SteelBook.
The combo editions include copies of the film on 4k Blu-ray, Blu-ray, and Digital via a redeemable code (in 4k UHD where available).
On 4k Ultra HD Blu-ray Sleepy Hollow is presented in 2160p at 1.85:1 aspect ratio with Dolby Vision HDR. The soundtrack is offered in DTS-HD Master Audio 5.1 channels (not upgraded to Dolby Atmos as early marketing indicated).
Other audio languages include Dutch and French in Dolby Digital 5.1, and, Japanese in Dolby Digital 2.0. Subtitles are available in English, English SDH, Dutch, Spanish, French, Italian, and Japanese.
The standard edition of Sleepy Hollow on 4k Blu-ray is priced $21.98 (List: $25.99) while the Limited Edition SteelBook is $30.99. Pre-order on Amazon: Standard Edition | SteelBook Edition
The Limited Edition SteelBook (see below) features custom artwork and a foldout book with Washington Irving's short story The Legend of Sleepy Hollow. This is the same packaging used for the 20th Anniversary Blu-ray release in 2019.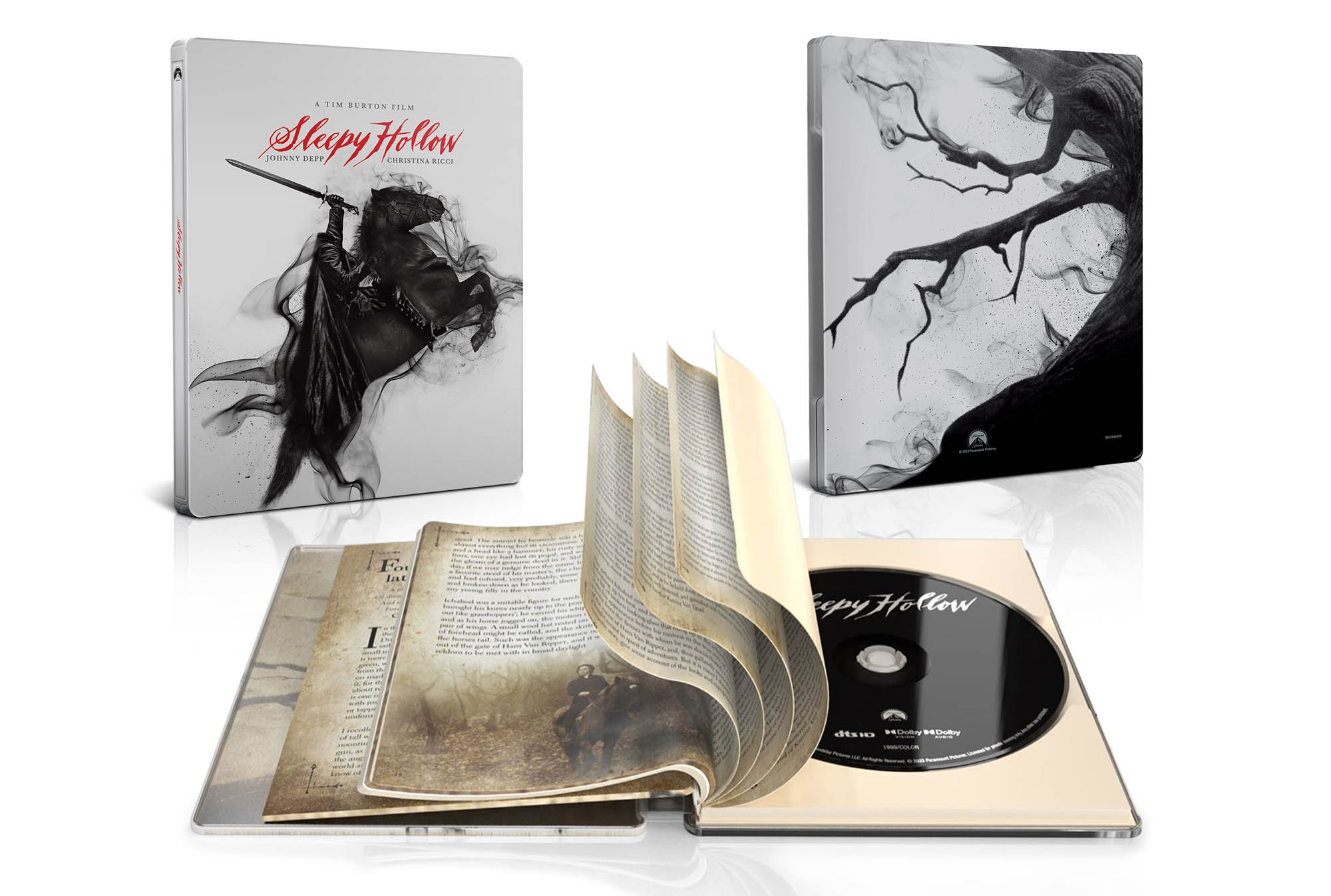 Synopsis: Master filmmaker Tim Burton's eerie and enchanting take on the classic Washington Irving tale of terror looks better than ever on 4K Ultra HD with Dolby Vision and HDR-10. Johnny Depp is Ichabod Crane—an eccentric investigator determined to stop the murderous Headless Horseman. Christina Ricci is Katrina Van Tassel, the beautiful and mysterious girl with secret ties to the supernatural terror. Packed with gothic imagery and thrilling action sequences, the all-star supporting cast includes Miranda Richardson, Michael Gambon, Casper Van Dien, Christopher Lee and Christopher Walken.
Updated from the previous publish date of Aug. 18, 2023.