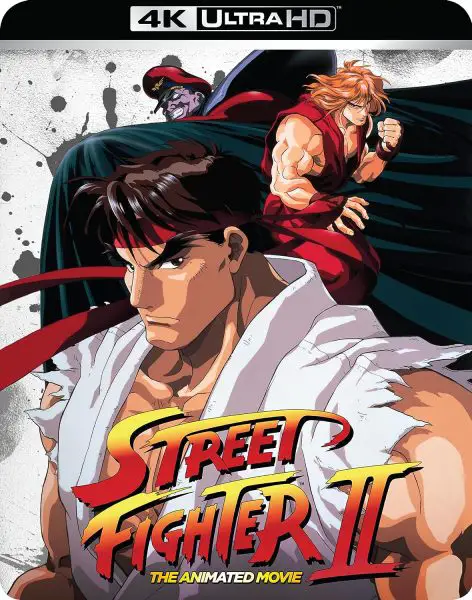 Street Fighter II The Animated Movie (also called Street Fighter II Movie) has been restored from a new film transfer and remastered in 4k with High Dynamic Range (HDR).
The Uncensored & Uncut version of Street Fighter II The Animated Movie arrives on November 28, 2023 in a single-disc Ultra HD edition from Discotek Media.
The edition includes the English dub version with US and UK audio restored, as well as the original Japanese language presentation (offered with English subtitles).
On 4k Blu-ray, is presented in 2160p at 1.85:1 (16 x 9) aspect ratio with HDR10. Audio is provided in English DTS-HD Master Audio 5.1 and DTS-HD Master Audio 2.0, as well as Japanese DTS-HD Master Audio 2.0.
Edition Features:
Newly Restored 4k UHD film transfer, Uncensored & Uncut
Every English Audio Track, US & UK, Restored & Remastered
Original Japanese version with English subtitles
Complete HD Restoration of the US PG-13 Cut
English Version Opening & Closing Credits
SFII: The Animated Movie Japanese Game Footage
Trailers and Commercials
Isolated Score
Production Art
Liner Notes
Street Fighter II The Animated Movie on 4k Ultra HD Blu-ray is priced $34.95 on Amazon.
Synopsis: M. Bison's plan to crush those who would oppose his evil Shadaloo organization is simple: brainwash the strongest martial artists around the world with his dreaded psycho power and turn them into living weapons! And now, he's found his newest target: Ryu, a traveling vagabond said to be the strongest man in the world. In order to stop the dictator's evil plot, Interpol agent Chun-Li forms a rocky partnership with Major Guile of the United States Air Force. But they'll have to put aside their differences and learn how to work together if they want to stop M.Bison; while the wandering Ryu is a hard man to find, M.Bison is closing in on Ryu's eternal rival Ken in a bid to lure out his real target! Will Shadaloo succeed, or will the World Warriors beat M.Bison to the punch?