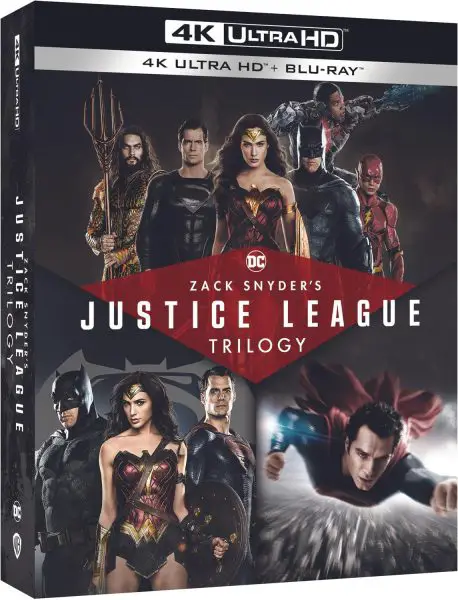 Zack Snyder's Justice League Trilogy is releasing in a new 4k Blu-ray/Blu-ray 8-disc edition on October 3rd, 2023. The new "slimmed down" version is apparently still a Digipack (correct us if we're wrong) but omits all the physical bonus material that included 9 art cards and one "Anti-life Equation" print found in the 2021 edition.
The trilogy consists of Man of Steel (2013), Batman v Superman: Dawn of Justice Ultimate Edition (2016), and Zack Snyder's Justice League (2021), amounting to a total run time of 567 minutes (not including bonus material).
On 4k Blu-ray, each DC Warner Bros. film is presented in 2160p (at various aspect ratios) with HDR10 High Dynamic Range and Dolby Atmos audio. The included Blu-ray (1080p) copies also feature Dolby Atmos.
What about the price? As of this posting, Zack Snyder's Justice League Trilogy 4k Blu-ray/Blu-ray edition is the same list price as the 2021 version ($84.99) but should drop upon the release date. Pre-orders are currently available on Amazon (with a pre-order price guarantee).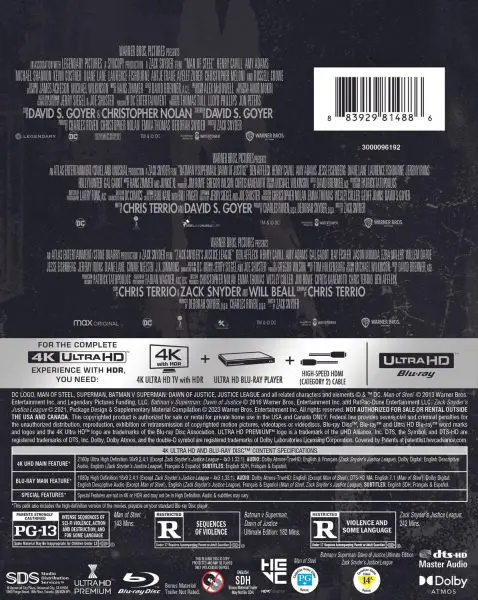 Description: In ZACK SNYDER'S JUSTICE LEAGUE, determined to ensure Superman's (Henry Cavill) ultimate sacrifice was not in vain, Bruce Wayne (Ben Affleck) aligns forces with Diana Prince (Gal Gadot) with plans to recruit a team of metahumans to protect the world from an approaching threat of catastrophic proportions. The task proves more difficult than Bruce imagined, as each of the recruits must face the demons of their own pasts to transcend that which has held them back, allowing them to come together, finally forming an unprecedented league of heroes. Now united, Batman (Affleck), Wonder Woman (Gadot), Aquaman (Jason Momoa), Cyborg (Ray Fisher) and The Flash (Ezra Miller) may be too late to save the planet from Steppenwolf, DeSaad and Darkseid and their dreadful intentions. Presented in a 4:3 format to preserve the integrity of the director's vision.