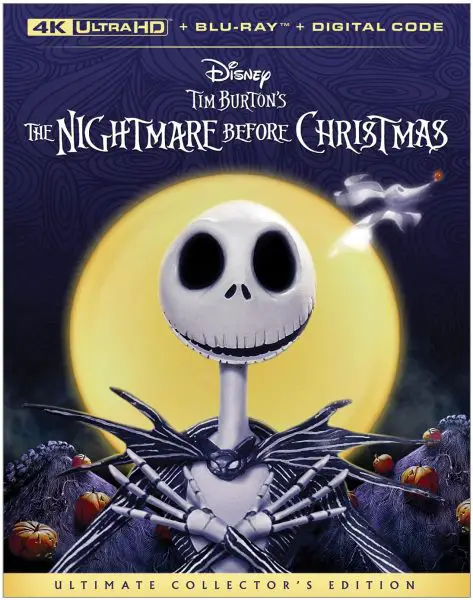 [Updated 8/20/23]
Tim Burton's The Nightmare Before Christmas is releasing in 4k for the first on August 22, 2023. The 2-disc "Ultimate Collector's Edition" from Disney/Buena Vista includes a 4k Blu-ray, Blu-ray, and Digital Copy redeemable with Movies Anywhere partners.
In addition, a new 1080p Blu-ray/Digital "Sing Along Edition" arrives simultaneously with the Ultra HD Blu-ray version (see package art below). The 4k Blu-ray version offers the "Sing Along Edition" on the included Blu-ray.
On 4k Blu-ray, The Nightmare Before Christmas is presented in 2160p (Ultra HD) at 1.66:1 aspect ratio with HDR10 High Dynamic Range. The soundtrack is provided in DTS HD-Master Audio 7.1 channel surround sound. Subtitles are provided in English SDH, French, and Spanish (for the feature film only).
Bonus features include deleted scenes, The Making of Tim Burton's The Nightmare Before Christmas, Audio commentary, Song Selection, Tim Burton's Early Film "Frankenweenie" (Uncut Version), Tim Burton's Original Poem, and What's This? Jack's Haunted Mansion Holiday Tour.
The Nightmare Before Christmas 2-disc "Ultimate Collector's Edition" is priced $21.99 on Amazon.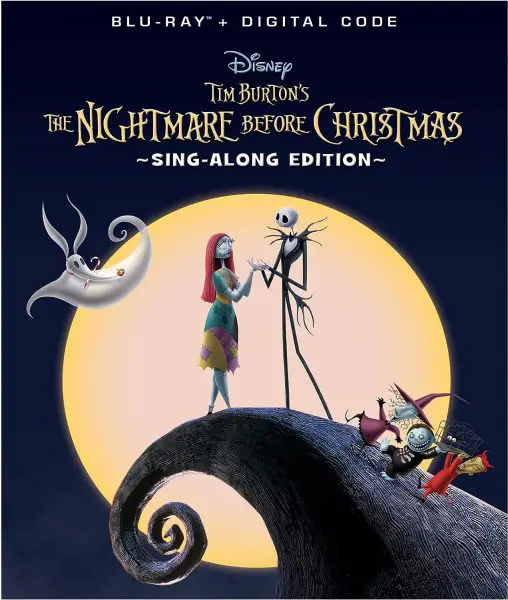 Description: THE NIGHTMARE BEFORE CHRISTMAS is the first full-length stop-motion animated film ever created. The movie contains more than 227 animated characters. Santa Claus' head has more than 50 different working parts, and Jack has more than 400 separate interchangeable heads, each handcrafted with a different facial expression. The smallest working puppet in the movie is a doll from the "real world" Jack visits that is only one-inch long. Sally is wearing a real miniature dress laid on top of foam latex so that the fabric doesn't move too much on screen. At the height of production, the animators produced only 70 seconds of finished film per week. To create Halloweentown's twisted look, the design artists often made their sketches using their non-drawing hand.
Updated: Original publish date July 9, 2023.