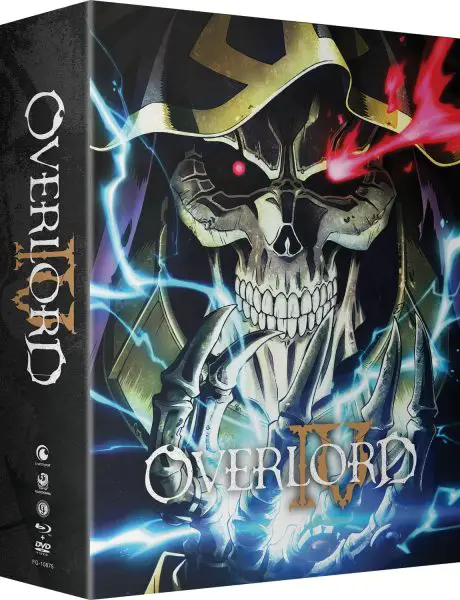 Overlord IV: Season 4 is releasing in a Limited Edition Blu-ray boxed set on October 24, 2023. The 4-disc edition from Crunchyroll includes copies of all 13 episodes on both 1080p Blu-ray Disc and 480p DVD.
On Blu-ray, episodes of Overlord IV are presented in 1080p at 16:9 aspect ratio in native HD resolution. The audio is provided in Dolby TrueHD (English) and 2.0 (Japanese). Subtitles are offered in English.
"Pack-In" extras include 5 art cards, a fabric poster, and 40-page art book. The book features character profiles, artwork, director's commentary, and cast interviews.
Bonus features are also included such as animated shorts, episode previews, web previews, promo videos, trailers, and textless opening and closing songs.
The boxed set of Overlord IV: Season 4 on Blu-ray/DVD is priced $79.99 (List: $94.98) on Amazon.
Bonus Content
Animated Shorts
Episode Previews
Web Previews
Promo Videos
Trailers
Textless Opening Song
Textless Closing Song
Synopsis: Newly crowned Ains plans his utopia, but before he can reform the rival kingdoms, he'll have to rule them. His terrifying nature makes allies hard to come by, but when the Dwarven Kingdom is threatened, Ains finally has a chance to prove his good intentions.