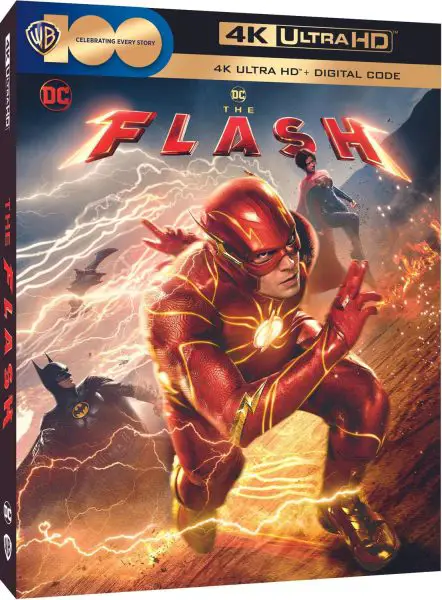 Warner Bros. Pictures' The Flash just released to theaters in the US on June 16 and is now available to pre-order in physical media formats including 4k Blu-ray, Blu-ray, and DVD.
The release date for the disc editions will be August 29, 2023. The physical media editions follow the digital release of The Flash on July 18, 2023.
Bonus features include featurettes on making The Flash, The Return of Michael Keaton as Batman, supergirl, scene studies of the epic bat chase, and battling zod. In addition, the original scripted podcast story The Flash: Escape the Midnight Circus, deleted scenes, and more.
The Flash is priced $29.96 (List: $39.99) on 4k Blu-ray and $24.96 (List: $29.98) on Blu-ray at Amazon. On DVD, The Flash is priced $19.96. And, in Digital HD/UHD the movie is listed at $24.99 (early premiere) or $19.99.
Exclusive 4k Blu-ray editions will also release from Best Buy ($36.99), Target ($26.99), and Walmart ($34.96).
Description: Worlds collide in "The Flash" when Barry uses his superpowers to travel back in time in order to change the events of the past. But when his attempt to save his family inadvertently alters the future, Barry becomes trapped in a reality in which General Zod has returned, threatening annihilation, and there are no Super Heroes to turn to. That is, unless Barry can coax a very different Batman out of retirement and rescue an imprisoned Kryptonian… albeit not the one he's looking for. Ultimately, to save the world that he is in and return to the future that he knows, Barry's only hope is to race for his life.