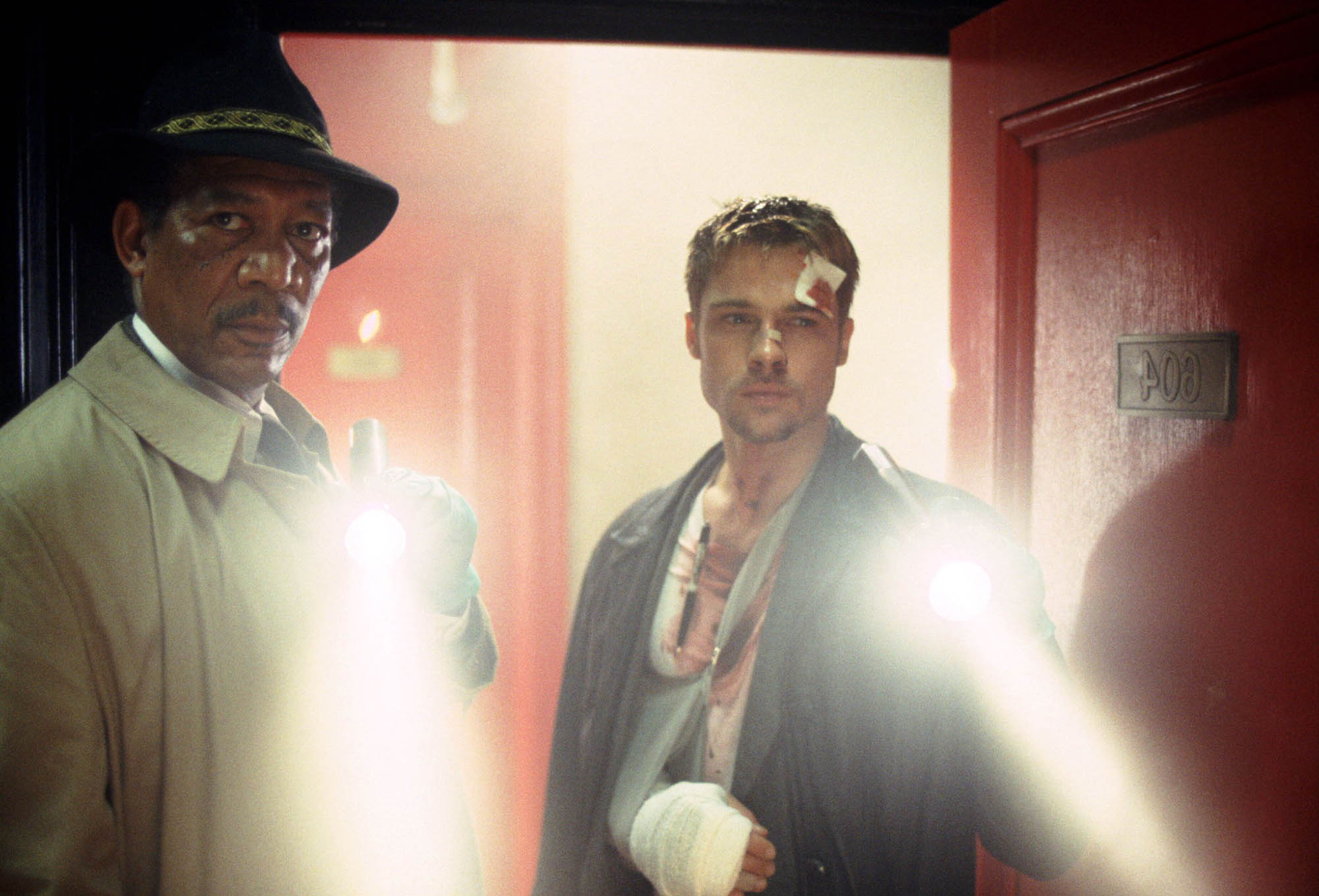 Director David Fincher confirmed at the Tribeca film festival on June 15h that he is in fact, working on a 4K remaster of Se7en. The director was speaking with Steven Soderberg when someone from the audience asked about whether he watches his past movies, and Se7en came up.
Fincher revealed more about the process, saying that the original negatives were "over-scanned and over-sampled" in order to get the best out of the negatives. 35 mm negatives have a ton of latitude, so it's not uncommon for analog film to actually be scanned in higher resolutions than needed for even 4K. But the Director alluded to the high quality of High Dynamic Range (HDR), which can expand the color depth and contrast.
This technology was different when Se7en was created, and even when the negatives were scanned for 1080p Blu-ray. So, given the large 4k screens we have in home theaters today as well as improved technology in cinemas there are likely areas of Se7en that can be improved and brought up to today's standards.
"Because there's a lot of stuff that we now can add because of high dynamic range. You know, streaming media is a very different thing than 35 mm motion picture negative in terms of what it can actually retain. So there are, you know, a lot of blown-out windows that we have to kind of go back and ghost in a little bit of cityscape out there," said Fincher.
Fincher also made note that he would not be making any major changes to the film, and made a reference to Steven Spielberg's change in E.T. the Extra-Terrestrial where the director swapped out guns for flashlights. 
"You know, I'm not gonna take all the guns out of people's hands and replace them with flashlights,"
But, the director did say three to five percent could have some changes, although likely to be just improvements to make the film more contemporary in terms of quality in lighting and set design.
One thing we would be curious about is whether or not the soundtrack would be upgraded to object-based Dolby, Atmos, or DTS:X. The previous Blu-ray versions of Se7en offered an excellent lossless DTS-HD Master Audio 7.1 track. It's one of the better Blu-ray audio mixes released Back in 2010 and so we'd hate to see the removal of the lossless track in favor of what could be a gimmicky Atmos track.
Regardless, it will be a delight to see Se7en in 4K resolution and HDR (either Dolby Vision or HDR10 or both). I've written about movies that I'd love to see remastered in 4K for several years now, and Se7en made the 2012 list along with titles such as Aliens (1986) and Minority Report (2002).
Fincher didn't reveal any proposed dates for the release (presumably on 4k Blu-ray with an updated 2k Blu-ray and Digital movie) but in 2025 the movie will celebrate its 30th Anniversary. Hopefully, we won't have to wait that long. We'll keep you posted on any updates and door release dates for Se7en on 4K Blu-ray.