These two Epson short-throw laser projectors have a lot in common, price is one of them. They are also both categorized as "short-throw" projectors, utilize 3-chip technology, and are built for home theater use. But how do the two models compare in terms of performance, design, and setup? Here's a breakdown of the Epson EpiqVision LS500 versus the Epson EpiqVision LS800.
Be sure to check out our individual reviews of both the Epson EpiqVision LS500 and the Epson EpiqVision LS800.
Price
The first thing we should address is the price of each projector. The LS500 released in 2020 had an original MSRP of $4,999 but eventually dropped down to $3,999 and is now selling for around $2,499+ on Amazon and Best Buy. The LS800 released in 2022 with a list price of $3,499 but was recently on sale for $2,999 on Amazon and Best Buy. Both models are available in white designs and may come in slightly different configurations and model numbers.
Image Quality
The biggest difference between the two projectors is the LS500 is an upscaling 4k UHD projector while the LS800 is native 4k. This might be a deal breaker for many 4k diehards, but LS500 does a nice job of upscaling HD and lesser content to UHD. The LS800 is 3840 x 2160p, and so when comparing the two there is a definite improvement in sharpness over the upscaled 4k. However, since projected images tend to be 100 inches or greater the viewing distance tends to be further away. As a result, it's hard to tell the difference when you're more than 10 feet away. Color is really what matters after a certain distance.
Frame Interpolation on both models will fill in missing frames to create a smoother final projected image. The effect of the interpolation, also known as the "soap opera" effect, is a personal choice for some (and unfortunately is turned on by default with most manufacturers). Our usual advice is to turn it on for sports but turn it off for movies.
Color Modes
Both projectors support Hybrid Log-Gamma (HLG) and HDR10 High Dynamic Range formats using the BT. 2020 gamut. The HDR spec can expand color depth on content embedded with the specs up to 10-bits vs. traditional 8-bit. The results of HDR can add detail to bright and shadow areas while displaying deeper color values.
Both the LS500 and LS800 can be set to four different modes. But, the modes are slightly different. The LS500 modes include Dynamic, Bright Cinema, Cinema, and Game. The LS800 includes Dynamic, Vivid, Cinema, and Neutral. The brightest modes are Bright Cinema and Dynamic (LS500) and Dynamic and Vivid (LS800). For more of a cinematic experience that isn't as saturated (albeit a more flat image) use Cinema on each projector. It should be noted there is a considerable difference in fan noise between the Cinema and other modes on the LS500 (Cinema mode is the quietest).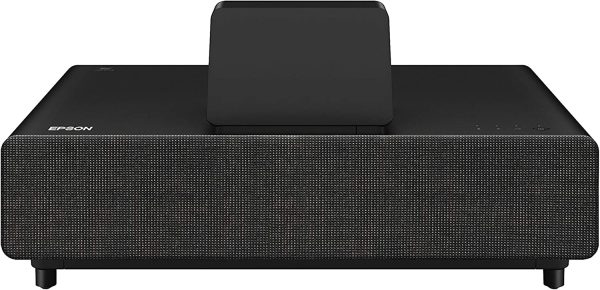 Setup
Both projectors are fairly easy to set up, although if you're starting from scratch with a new projector screen like the Epson SilverFlex light-reflecting screen the installation will take some time. Instructions with the LS500 direct installers to download a jpg image that can be used as a template for installing a screen.
But, let's assume a screen is already installed or you are simply utilizing a plain white wall. The LS500 comes with a cardboard spacer for setting the correct distance between the wall and the projector. Then, you can use the projector's feet to level it both vertically and horizontally. Finally, use the built-in distortion controls to stretch or constrain the image to be a perfect rectangle whether within a frame or just on a white wall.
The LS800 directs installers to use the Epson Setting Assistant app to automatically resize the image to fit. Once you set up the image to be overlapping the frame (just slightly larger), the app instructs users to take a photo. Then, the app will use the photo to adjust all corners. Getting the sides to all be equal can be one of the most painstaking parts of setting up a projector.
We didn't find either projector to be more difficult than the other.
Noise Level
Both projectors emit a fan noise level that we wish was not so pronounced: The LS500 is rated at 36 decibels while the LS800 at 32 decibels. When compared, the LS500 actually runs at a more quiet level than the LS800 but only in Cinema mode. The other 3 modes are equally as noisy as the LS800 in all modes. This might be the biggest complaint about both Epson EpiqVision projectors. The noise isn't as noticeable when audio levels are fairly loud but when trying to listen at low levels the fans can be annoying.
Built-In Speakers
The Epson EpiqVision LS800 boasts much better built-in sound than the LS500. That's because of the dual 5W tweeters and one tiny 10W subwoofer that pushes some bass into the output. The mini-sub really does the trick, as the sound on the LS500 sounds thin in comparison. Of course, you'll want to get this projector set up to an amplified system for the best home theater experience.
Epson LS500 vs. LS800 Spec Comparison
| | | |
| --- | --- | --- |
|   | LS500 | LS800 |
| Resolution | 4k (2160p) upscaled | 4k (2160p) native |
| Native Resolution | 1080p | 2160p |
| Brightness | 4,000 lumens | 4,000 lumens |
| Contrast Ratio | 2,000,000:1 | 2,500,000:1 |
| 3D Compatible | Yes – RF 3D glasses | No |
| Platform | Android TV w/adapter | Android TV |
| Voice Assist | Google Assistant w/adapter | Google Assistant |
| Noise Level | 36 decibels | 32 decibels |
| Screen Mirroring | Mobile to screen | Mobile to screen |
| Maximum Viewing | 130″ | 150″ |
| HDMI Inputs | 3 | 3 |
| HDMI (ARC) | Yes | Yes |
| Refresh rate | Up to 60Hz |  4K/60p or 1080p/120 Hz |
| Speakers | Dual 10-Watts | Dual 5W / 10W woofer |
| Internet Port | Ethernet Port | No |
| WiFi | 802.11b/g/n w/module | Wi-Fi 5 (802.11ac) |
| Min. distance from screen | 17″ (100″diag. screen) | 3.8″ (100″ diag. screen) |
| List Price | $3,999 | $3,499 |
Our Take
From looking at just the specs the Epson Epiqvision LS800 would appear to be the superior model. And, it is. With native 4k resolution, built-in Wi-Fi, higher contrast ratio, faster refresh rate (up to 120Hz), shorter required distance from the screen, and better sound (with two full-range speakers and subwoofer) the newer short-throw model would seem to be the better choice for cutting edge home theaters.
But let's take into consideration the LS500 supports 3D content, features real time 12-bit analog-to-digital video processing, plays HDR10/HLG content (just like the LS800), includes a wired Ethernet port, and is a little bit quieter than the LS800 in Cinema mode. Perhaps most importantly though, it's currently priced about $1,000 cheaper than the LS800. The LS500 is selling for $2,499 on Amazon while the LS800 is $3,448 on Amazon.