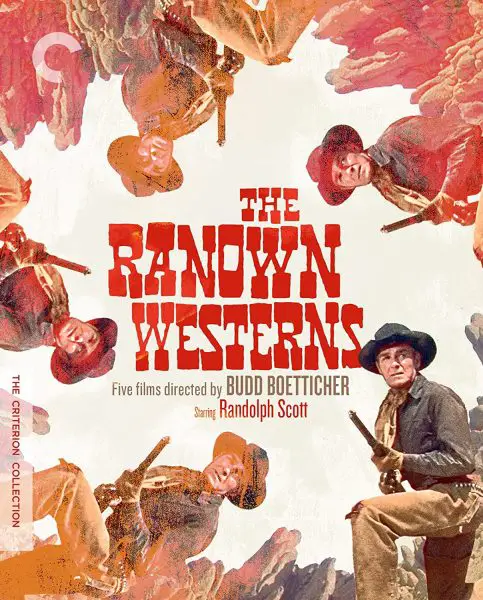 The Ranown Westerns: Five Films Directed by Budd Boetticher presents five classic films in 4k resolution releasing on July 18, 2023. The 6-disc edition from The Criterion Collection includes three 4k Blu-rays and HD Blu-rays with the remastered films, along with new and legacy bonus features.
Sony Pictures Home Entertainment has restored the Budd Boetticher westerns in 4k with Dolby Vision HDR and uncompressed monaural soundtracks.
The Ranown Westerns: Five Films Directed by Budd Boetticher on 4k Blu-ray/Blu-ray is priced $149.95 on Amazon.
Description. The five briskly entertaining, vividly performed westerns made by director Budd Boetticher and strapping star Randolph Scott in the second half of the 1950s transcend their B-movie origins to become rich, unexpectedly profound explorations of loyalty, greed, honor, and revenge. Often grouped under the name Ranown (after producer Harry Joe Brown and Scott's production company) and colorfully scripted by Burt Kennedy and Charles Lang, these films seem to unfold in a world unto themselves, staking a claim between traditional westerns and the subversive genre revisionism of the 1960s—and representing the crowning achievement of the underappreciated auteur Boetticher.
6-Disc 4K Ultra HD/Blu-ray Special Edition Features
New 4K digital restorations by Sony Pictures Entertainment, with uncompressed monaural soundtracks
Three 4K UHD discs of the films presented in Dolby Vision HDR and three Blu-rays with the films and special features
Introductions to the films by filmmakers Martin Scorsese and Taylor Hackford
New introduction by film critic Farran Smith Nehme on actor Randolph Scott
Three audio commentaries, featuring film scholar Jeanine Basinger on The Tall T, film historian Jeremy Arnold on Ride Lonesome, and Hackford on Comanche Station
Archival programs featuring interviews with director Budd Boetticher
Audio conversation with Boetticher and film scholar Jim Kitses
Super 8 home-movie version of Comanche Station
Trailers
English subtitles for the deaf and hard of hearing
PLUS: An essay by film scholar Tom Gunning