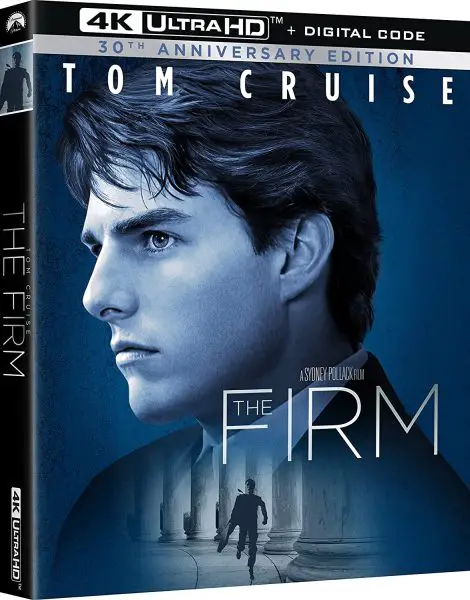 2x Oscar-nominated drama The Firm (1993) directed by legendary actor/director/producer Sydney Pollack has been remastered for release on Ultra HD Blu-ray for the first time. The 4k presentation celebrates the 30th Anniversary of the theatrical premiere of The Firm and comes with a Digital Copy.
The inclusion of a remastered Blu-ray disc has not been confirmed. And, we're still waiting on official video and audio specs, as well as if any bonus material (new or legacy) will be included.
The Firm (1993) on 4k Blu-ray (Street Date: 6/20/2023) is priced $24.99 US (Amazon)
Description: Mitch McDeere is a brilliant and ambitious Harvard Law grad driven to bury his working-class past. When he joins a small, prosperous Memphis firm, it's a dream come true for Mitch and his wife (Jeanne Tripplehorn). But when he's confronted with evidence of corruption and murder within the firm, he's caught in a deadly crossfire between the Feds, the Mob, and a force that will stop at nothing to protect its interests. Based on the global bestselling novel by John Grisham, and directed by Oscar winner Sydney Pollack, THE FIRM is a thrilling mystery with tense twists and turns.
Also releasing on 4k Blu-ray on the first time is Vanilla Sky (2001) starring Tom Cruise, Penélope Cruz, and Cameron Diaz.