Paramount's Dungeons & Dragons: Honor Among Thieves just released in theaters on March 31, 2023, but is already available to pre-order for home viewing in digital on May 2, and on disc on May 30, 2023.
On disc, the film will be available on 4k Blu-ray, Blu-ray, and DVD including a 4k Blu-ray SteelBook edition. In digital formats, Dungeons & Dragons: Honor Among Thieves will be available to purchase in SD, HD, and Digital 4k UHD.
Dungeons & Dragons: Honor Among Thieves was directed by Jonathan Goldstein and John Francis Daley. The film stars Chris Pine, Michelle Rodriguez, Regé-Jean Page, Justice Smith, Sophia Lillis, and Hugh Grant.
Description: A charming thief and a band of unlikely adventurers undertake an epic heist to retrieve a lost relic, but things go dangerously awry when they run afoul of the wrong people in this hilarious and action-packed adventure.
Pre-orders*
*Prices at time of publication
Special Features
From Dice to Dragons: Honoring the Lore— Go behind-the-scenes with Chris Pine, Michelle Rodriguez, and the cast and crew to witness the thrilling journey of bringing the classic board game to life in the ultimate D&D experience.
Rogues' Gallery: The Heroes of Dungeons & Dragons— Get an in-depth look at the heroes of the film as the cast delves into their characters and reveals the secrets behind bringing them to life on screen.
Fantastic Foes— Explore the dark side of D&D with a look at the film's complex and fascinating villains.
The Bestiary— Check out the cutting-edge visual effects, prosthetics, and intricate costumes that went into the creation of the movie's magical beings and fantastical beasts.
Forging the Forgotten Realms— Discover the secrets behind the exciting sets and breathtaking locations in faraway lands!
Broadswords, Battle-axes & Badass Brawls— Dive into epic fight sequences with a behind-the-scenes look at the mind-blowing stunts and powerful weaponry that went into this heart-pumping action adventure.
Gag Reel— Don't miss the hilarious gag reel with bloopers and outtakes.
Deleted and Extended Scenes— Uncover even more of the action with deleted & extended scenes not seen in theaters!
Optional English, English SDH, Spanish, and French subtitles for the main feature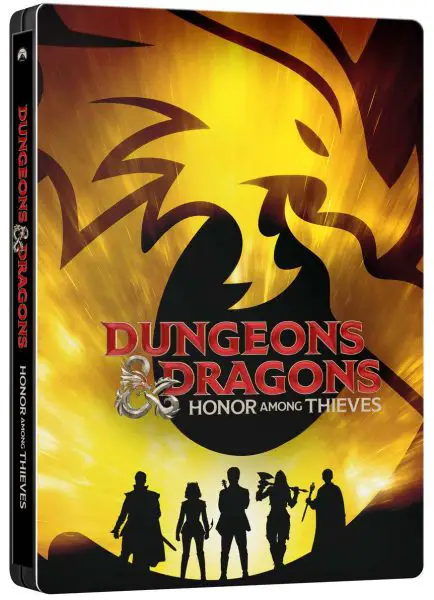 Note: Previously, retailers including Amazon and Best Buy posted different package art for the Blu-ray, 4k Blu-ray, and DVD editions. We've left those images below for historical reference.