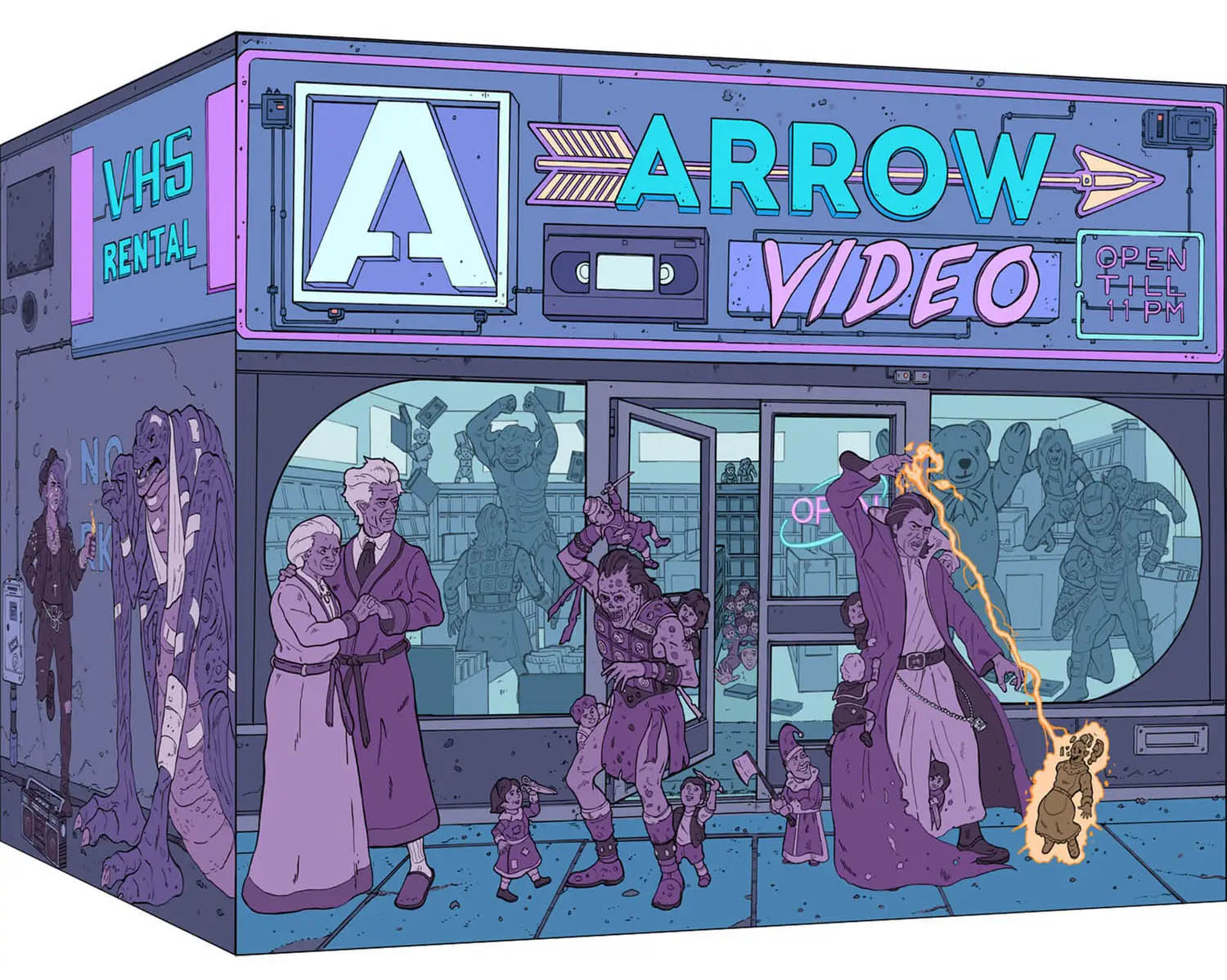 Arrow Video has compiled five films from the 80s produced by Empire International Pictures for release on HD (1080p) Blu-ray on June 37, 2023. The 5-disc Blu-ray collection includes The Dungeonmaster (1984), Dolls (1986), Cellar Dweller (1987), Arena (1989), and Robot Jox (1989).
The collection (with custom package art) includes double-sided posters with new artwork of each film, 15 postcard art car repros, an 80-page bound book, an Arrow Video store membership card, new bonus material, and legacy bonus material.
Enter the Video Store: Empire of Screams Collector's Set 5-Movie Blu-ray Collection carries an MSRP of $99.95 US. Buy on Amazon
Description: Remember the shelves of your local video store? Those days aren't gone! Reject reality and substitute your own with Arrow Video! In 1983, entrepreneurial producer and director Charles Band founded Empire International Pictures, which would go on to make some of the most memorable and beloved genre movies of the 1980s. Empire became a mainstay of video stores across the world with their catchy titles, outlandish art and Band's wholehearted belief in giving audiences a good time.
LIMITED EDITION CONTENTS
High Definition Blu-ray (1080p) presentations of all five films
Double-sided posters for each film featuring original and newly commissioned artwork by Ilan Sheady
15 postcard-sized reproduction art cards
Arrow Video store "membership card"
80-page perfect bound book
Disc 1 – The Dungeonmaster (1984)
New 2K restoration by Arrow Films from the original negative
Three different versions of the film via seamless branching: the US theatrical version (The Dungeonmaster), the pre-release version and the international version (Ragewar)
Original lossless mono audio
New audio commentary with star Jeffrey Byron, moderated by film critics Matty Budrewicz and Dave Wain
I Reject Your Reality and Substitute My Own, a new interview with star Jeffrey Byron
Disc 2 – Dolls (1986)
New 2K restoration by Arrow Films from the original interpositive
Original lossless stereo audio
New audio commentary by David Decoteau, Empire alumnus and friend of Stuart Gordon
Archive audio commentary with director Stuart Gordon and writer Ed Naha
Archive audio commentary with cast members Carolyn Purdy-Gordon, Stephen Lee, Carrie Lorraine, and Ian Patrick Williams
Assembling Dolls, a new interview with Lee Percy, editor of Dolls, Re-Animator and From Beyond
Toys of Terror: The Making of Dolls, an archive featurette with Gordon, Yuzna, Purdy-Gordon, Williams, Charles Band and Gabe Bartalos
Film-to-storyboard comparison
Disc 3 – Cellar Dweller (1987)
Additional picture restoration by Arrow Films
Original lossless stereo audio
New audio commentary by special make-up effects artist Michael Deak who inhabited the Cellar Dweller creature suit, moderated by film critics Matty Budrewicz and Dave Wain
Grabbed by the Ghoulies, a new appreciation of John Carl Buechler, special make-up effects artist of many Empire Pictures films and director of Cellar Dweller, by film critics Matty Budrewicz and Dave Wain
Inside the Cellar, a new interview with special make-up effects artist Michael Deak
Original production notes
Empire Pictures trailer reel
Image galleries, including behind the scenes photos courtesy of special make-up effects artist Michael Deak
Disc 4 – Arena (1989)
New 2K restoration by Arrow Films from the last known surviving 35mm elements
Original lossless stereo audio
New audio commentary with director Peter Manoogian, moderated by film critics Matty Budrewicz and Dave Wain
Alternative fullframe presentation
Not His Arena, a new interview with co-screenwriter Danny Bilson
Empire of Creatures, a new interview with special make-up effects artist Michael Deak
Disc 5 – Robot Jox (1989)
New 2K restoration by Arrow Films from the original negative
Original lossless stereo audio
Archive audio commentary with director Stuart Gordon
Archive audio commentary with associate effects director Paul Gentry, mechanical effects artist Mark Rappaport, and stop-motion animator Paul Jessell
Crash and Burn, a new interview with actor Gary Graham