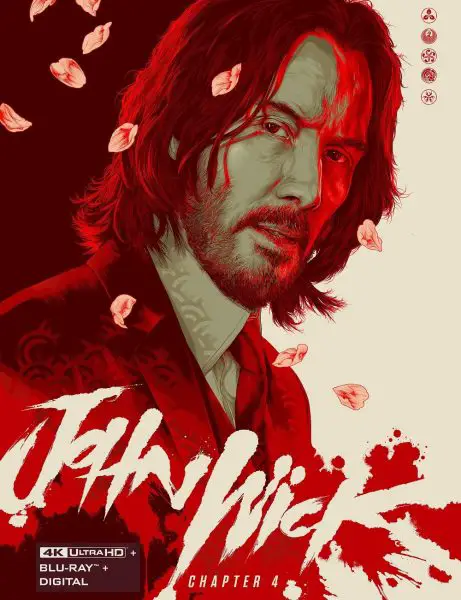 We don't have many details on the Amazon Exclusive 4k Blu-ray edition of John Wick: Chapter 4, but we do know it is priced really low for a 3-disc combo. Right now, the exclusive Limited Edition is only $26.53 on Amazon after originally being listed at $42.99.
NOTE: This deal (or mistake) did not last long. Follow Us on Twitter so you don't miss out on the next deal we post.
Newly released 3-disc combo editions on 4k Blu-ray typically sell for at least $29.99 and at times $34.99. Retailer exclusives can often be even priced higher. That's why $26 bucks is a steal. And, let's not forget the combo edition from Lionsgate includes two Blu-rays and a Digital Copy of the film.
What will John Wick: Chapter 4 be presented in? If following Chapter 3 of the franchise the fourth movie should be presented in 2160p (4k) resolution at 2.39:1 aspect ratio. HDR should be provided in Dolby Vision/HDR10. And, the soundtrack will likely be offered in Dolby Atmos.
Other details like bonus material details, packaging artwork, and official release date are TBD.
Here are pre-order links for John Wick: Chapter 4 on Blu-ray, 4k Blu-ray, DVD, and Digital.
Pre-orders
John Wick: Chapter 4 Ultra HD Blu-ray/Blu-ray/Digital Amazon Exclusive $26.53 (Was: $42.99) Buy on Amazon
John Wick: Chapter 4 Ultra HD Blu-ray/Blu-ray/Digital $26.53 (Was: $42.99) Buy on Amazon
John Wick: Chapter 4 Blu-ray/DVD/Digital $24.72 (List: $39.99) Buy on Amazon
John Wick: Chapter 4 DVD $18.95 (List: $29.96) Buy on Amazon
John Wick: Chapter 4 Digital HD/UHD $19.99 Buy on Amazon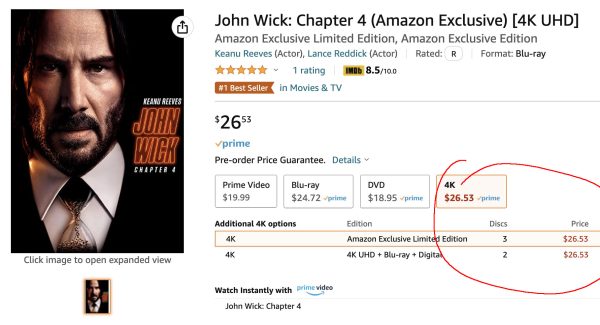 Product description: Over four films, the John Wick universe has expanded from a story of a man trying to avenge his dog to a massive world full of international intrigue and assassins. In this 20 minute exclusive, learn about the massive creative process that brings forth the many new locations and players that enter into the fray. Director, Chad Stahelski joins cast and crew to guide fans through the his creative process and tribulations that have culminated in this epic fourth installment.
From the high-rises of Osaka, to the château's of France, allies and enemies alike characterize this one of a kind, cinematic experience. We meet Wicks ally Akira, played by legendary J-pop star Rina, Sawayama, and discover the extensive training she had to go through to bring this unique character to life. Then, the foes of Wick, like Bill Skarsgård's marquis, set killer obstacles and an unforgettable final duel.