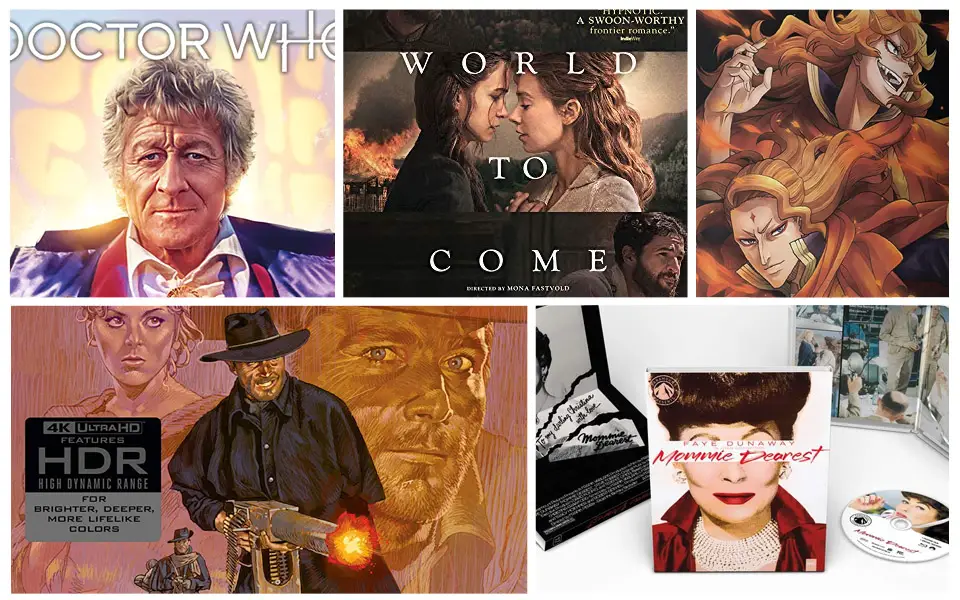 On Tuesday, June 1st there are several new Blu-ray and 4k Blu-rays to look out for. On 4k Blu-ray, you can pick up the Lara Croft: Tomb Raider 2-Movie Collection (previously released as single movie editions). Sergio Corbucci's Django (1966) releases to a Limited Edition 4k Blu-ray edition with Adios (1966) included. And, 70s film Smokey and the Bandit (1977) starring Burt Reynolds has been upgraded to 4k resolution with HDR10.
New on Blu-ray from television Genndy Tartakovsky's Primal: The Complete First Season, the complete second season of Doctor Who: Jon Pertwee, and Black Clover – Season Three Part Four all arrive on 1080p Blu-ray.
The World to Come (2021) starring Katherine Waterston and Vanessa Kirby, The Courier (2021) starring Benedict Cumberbatch, In & Out (1997) starring Kevin Kline, and The Stepford Wives (2004) starring Nicole Kidman all release to Region A Blu-ray for the first time. In addition, the seventeenth title in the Paramount Presents series of movies Mommie Dearest (1981) starring Faye Dunaway is releasing to Blu-ray.
New Blu-ray & 4k Blu-ray Releases, June 1, 2021
4k Blu-ray
Blu-ray Disc
Here's a link to all new Blu-ray releases available at Amazon this week.