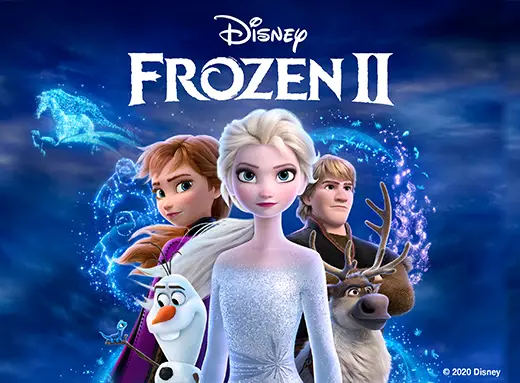 Disney's Frozen II has been released to digital formats ahead of Blu-ray & 4k Blu-ray on February 25th. If you're thinking about buying this film early in digital here's where to buy, how much each format costs, and what bonus material is included.
Formats
Frozen II is available in High Definition (HD), Ultra High Definition (UHD), and Standard Definition (SD). In Digital UHD (2160p) the movie features High Dynamic Range (HDR) on devices that support it. Audio is provided in Dolby Atmos or Dolby Digital 5.1. Unfortunately for Apple TV 4k owners Frozen II is only available in up to HD/Dolby 5.1.
Sharing
Frozen II is part of Disney's Movies Anywhere platform, so if you purchase the film from one service it should be available through other popular movie services including Amazon, Apple, Google, Vudu, and now Comcast Xfinity. (See a list of Movies Anywhere partners here).
Bonus Material
There are plenty of extras included with the digital purchase of Frozen II. These include 17 minutes of deleted scenes, 11 minutes of deleted songs, 2 minutes of outtakes, and more (see a full list below). Be sure to check with your preferred digital retailer to see if the bonus materials you would like are included.
Price
Frozen II is selling for $19.99 in Digital SD/HD and $24.99 in Digital 4k UHD at most popular digital movie services. The movie will be available to rent upon release of the Blu-ray, 4k Blu-ray and retailer exclusive editions.
Amazon Prime Video – $19.99 (SD/HD) $24.99 (UHD) + Bonus Material
Apple iTunes – $19.99 (SD/HD) $24.99 (UHD) + iTunes Extras
FandangoNow – $19.99 (SD/HD) $24.99 (UHD)
Google Play – $19.99 (SD/HD) $24.99 (UHD)
Microsoft Video – $19.99 (SD/HD) $24.99 (UHD) + Bonus Material
Movies Anywhere (directs customers to most services listed here)
Vudu (Walmart) – $19.99 (SD/HD) $24.99 (UHD) + Bonus Material
Bonus Material
Sing-Along Version of the Movie 1 h 43 min
"All is Found" 1 min
"Some Things Never Change" 3 min
"All is Found Reprise" 24 sec
"Into the Unknown" 3 min
"When I Am Older" 1 min
"Lost In The Woods" 3 min
"Show Yourself" 4 min
"The Next Right Thing" 3 min
Outtakes 2 min
Did You Know??? 4 min
The Spirits of "Frozen 2" 12 min
Scoring A Sequel 3 min
Meet The Lopezes 8 min
Deleted Scenes 17 min
Deleted Songs 11 min
Gale Tests 3 min
"Into the Unknown" in 29 Languages 3 min
"Into The Unknown (Panic! at the Disco Version)" 3 min
"Lost In The Woods (Weezer Version)" 3 min