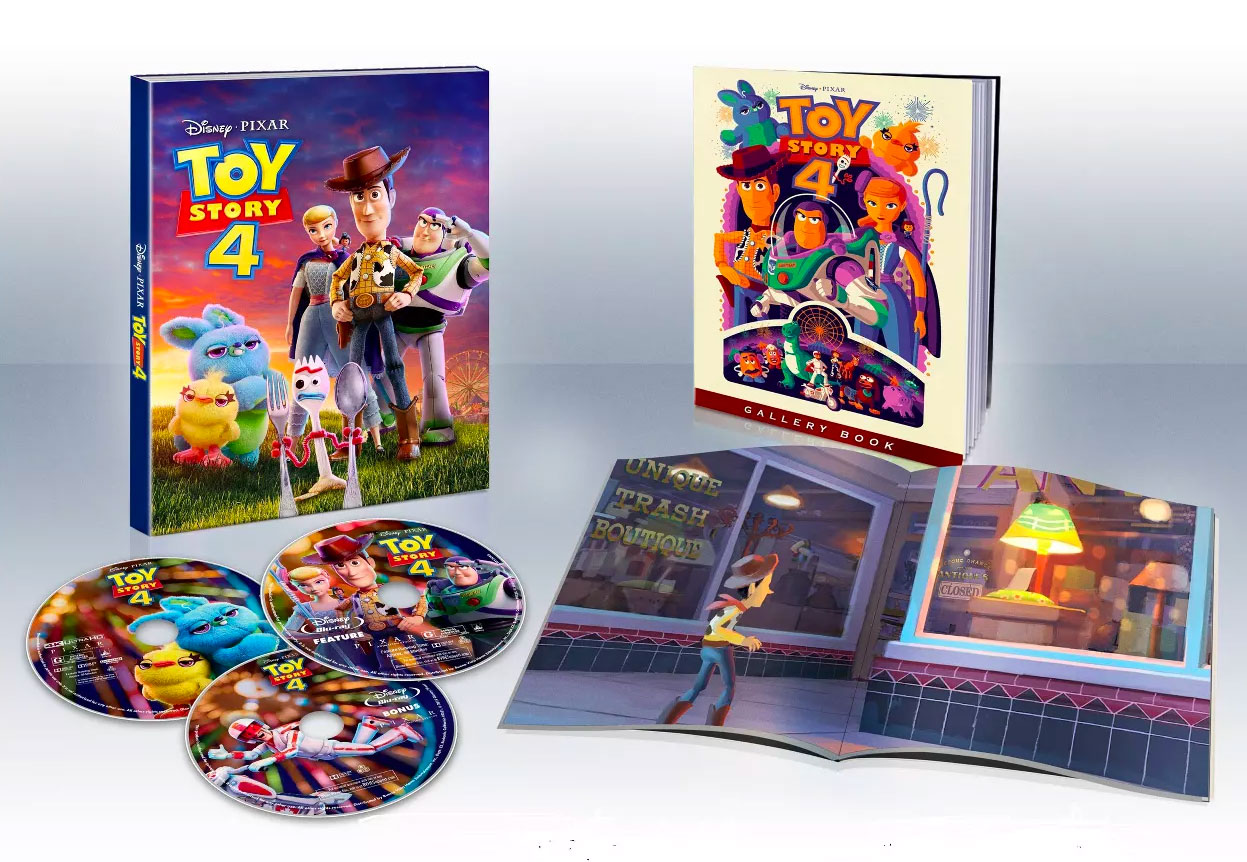 Toy Story 4 is releasing to Blu-ray, 4k Blu-ray, & DVD on Tuesday, October 8. The movie stars Tom Hanks, Tim Allen, and Annie Potts in the fourth installment of the Disney/Pixar franchise that premiered in theaters last June. On disc, the film will be available in several editions and retailer exclusives. Here's a look at the variations, details and what each edition is priced.
Blu-ray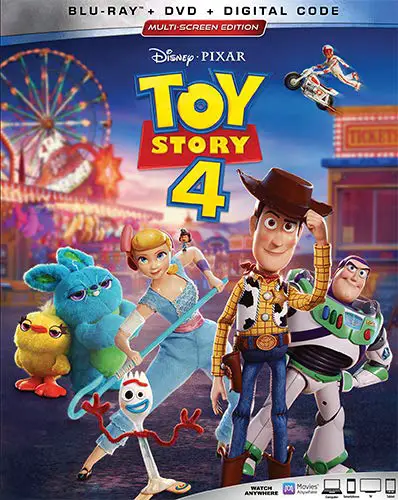 Disney/Pixar is releasing a 3-disc "Multi-Screen Edition" of Toy Story 4 on Blu-ray with a DVD and Digital Copy. The Blu-ray Disc presents the movie in 1080p at 2.39:1 aspect ratio with English 7.1 DTS- HD Master Audio, Descriptive Audio, and English SDH. Price: $24.96 (List: $39.99) Buy on Amazon
4k Blu-ray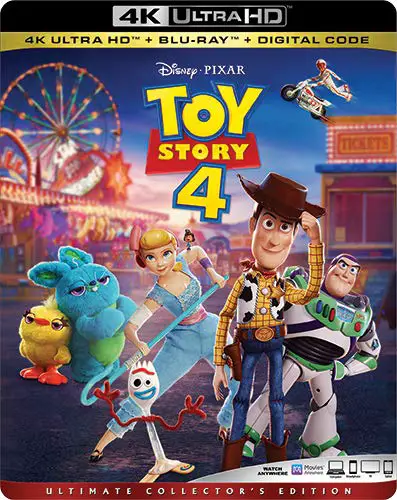 On 4k Blu-ray, Toy Story 4 is packaged in the Ultimate Collector's Edition with Ultra HD Blu-ray, Blu-ray, extra bonus disc, and Digital Code to redeem with Movies Anywhere. On UHD BD the movie is presented in 3840×2160 resolution with HDR10 High Dynamic Range. The English audio is provided in Dolby Atmos with Descriptive Audio and SDH. Price: $29.96 (List: $44.99) Buy on Amazon
Best Buy SteelBook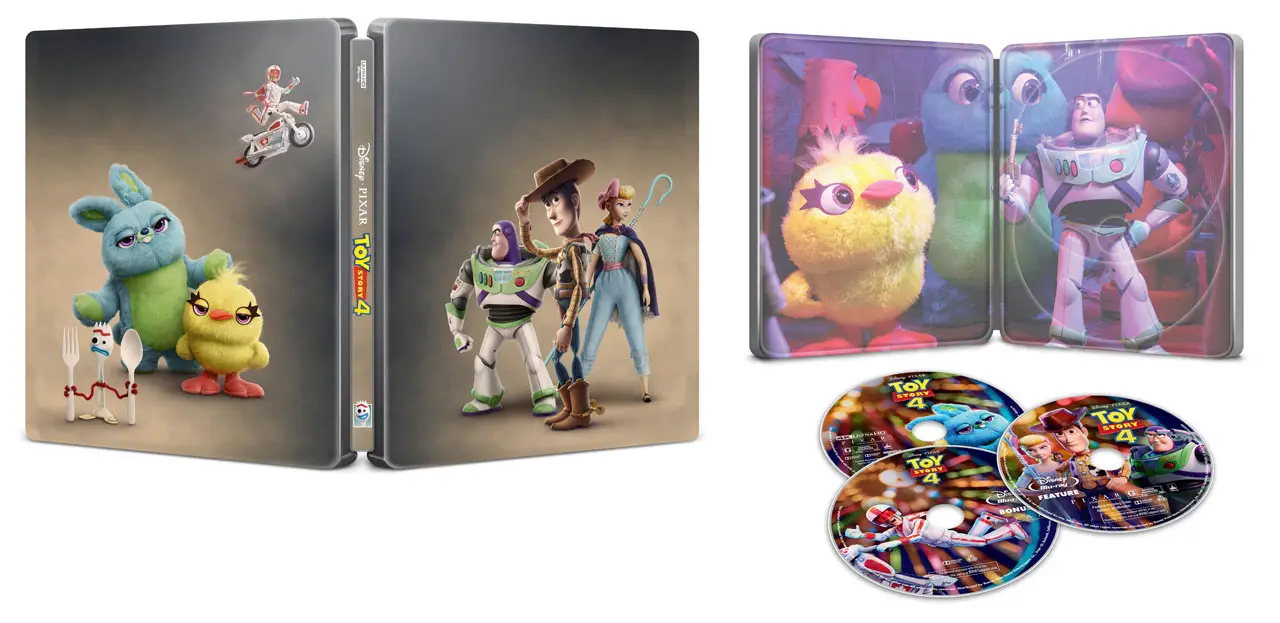 Best Buy has a limited edition SteelBook edition of Toy Story 4 that features unique artwork of Woody and the gang on the cover, back and inside of the aluminum case. The exclusive SteelBook is sold in the Ultra HD Blu-ray 3-disc edition only. Price: $34.99
Target Exclusive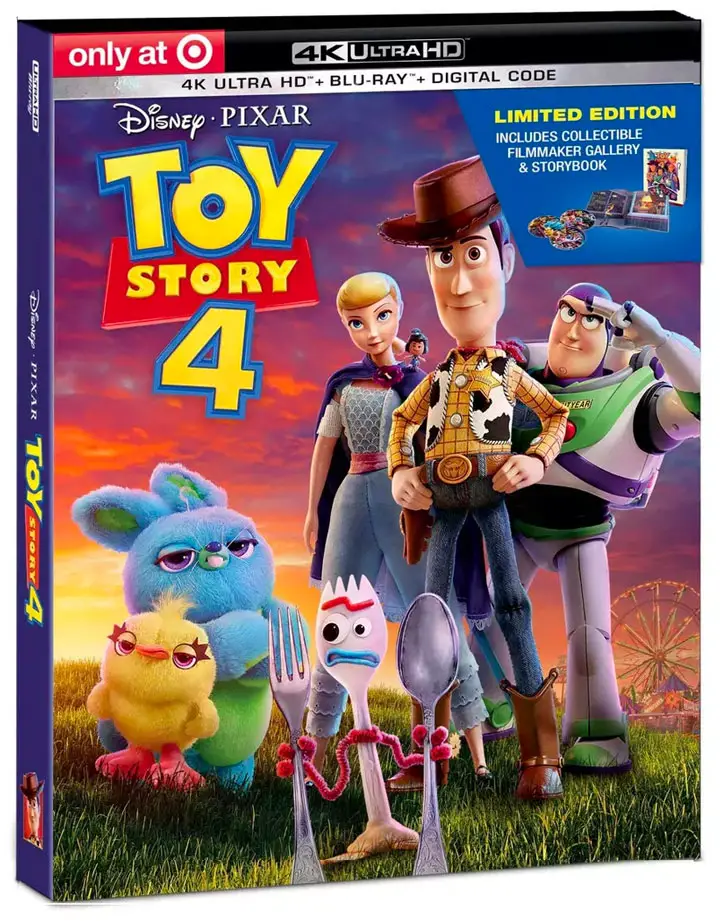 Target's exclusive limited-edition of Toy Story 4 contains a collectible filmmaker gallery and storybook. The Only & Target exclusive comes in the 3-disc Ultra HD Blu-ray edition only with copies on Blu-ray and Digital UHD. Price: $34.99
Bonus Material
The bonus material varies by format but includes deleted scenes, "Bo Rebooted," "Toy Stories" about cast/crew toys, "Woody & Buzz" lookback, "Toy Box" cast introductions, "Let's Ride! with Ally Maki" voice recording lesson, and more.
Bonus Material Details
TOY VIEW: CARNIVAL RUN
TOY VIEW: VIEW FROM THE ROOF
WOODY & BUZZ
BO REBOOTED
TOY STORIES
AUDIO COMMENTARY
Deleted Scenes

Deleted Scenes: General Introduction
Deleted Scene: Scamming Playtime With Introduction
Deleted Scene: Bo Knows Hippos With Introduction
Deleted Scene: Desperate Toys With Introduction
Deleted Scene: Knock-Offs With Introduction
Deleted Scene: Recruit Duke With Introduction
Deleted Scene: She's the One With Introduction

ANATOMY OF A SCENE: Playground
CARNIVAL PRIZES (Toolkit Montage)
LET'S RIDE with Ally Maki
TOY BOX

TOY BOX: Ducky & Bunny
TOY BOX: Duke Caboom
TOY BOX: Forky
TOY BOX: Gabby Gabby & Her Gang
TOY BOX: Giggle McDimples

Trailers

Toy Story 4 Trailer / Booth – Global Teaser in Spanish
Toy Story 4 Trailer / Freedom – Global Trailer in Russian
Toy Story 4 Trailer / German Scary Trailer
Toy Story 4 Trailer / Pixar Pedigree – Exclusive for China
Toy Story 4 Trailer / Playtime – Global Trailer in English

Digital Exclusives

Anatomy of a Scene: Prologue
Deleted scene "Bonnie's Playground"