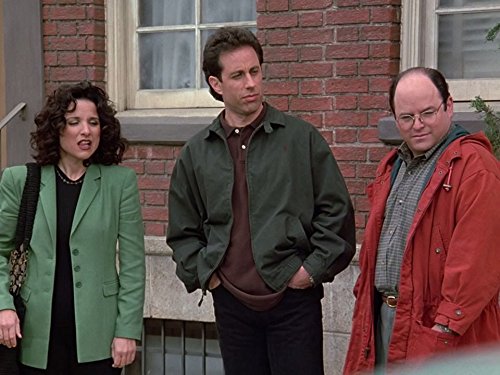 Netflix is losing Friends & The Office but gaining Seinfeld. The streaming giant announced streaming rights to the 9-season sitcom to launch in 2021, a deal that is estimated at over $500 million.
In a statement, Netflix chief content officer Ted Sarandos also mentioned the series would be available in 4k for the first time.
It's not clear, however, whether Seinfeld will be remastered to UHD or just upscaled. The show originally aired in the older 4:3 aspect ratio but has since been updated to 16:9 (HD) for streaming outlets like Hulu, iTunes, and Vudu.
The original 4:3 image was obviously cropped on the top and bottom to fit the wider format, but there is some picture gain on the left and right. In effect, rewatching Seinfeld in 16:9 is more than just revisiting classic moments from the show. The image is much sharper and there are elements not visible in the original 4:3 broadcast. Could 4k add even more?
Seinfeld was shot in 35mm so there is the potential to rescan the negatives in higher quality for 4k. Film doesn't really have a defined resolution, so as long as the source is good there is the potential for 4k and even 8k scans. But you're talking about 173 episodes and a lot of time and money. One might also think about the potential of adding HDR for more color range and wider contrast. But is that pushing it too far?
Seinfeld is a sitcom and not exactly a cinematic masterpiece. Not to belittle its comedic genius but does the show really need to be any sharper than HD? And, does it need the wider range of brightness and color depth HDR could bring?
Regardless of image resolution, NBCUniversal will likely regret letting Seinfeld get away. Since Hulu is 33%-owned by Comcast subsidiary NBCUniversal (although gradually selling its shares to Disney over the next five years), it's got to be a sore spot for the company who could have used Seinfeld to help launch its new streaming service, now called "Peacock," in April of next year.
Seinfeld is currently streaming on Hulu domestically until 2021 (and Amazon in internationally). But both platforms will give up their rights to Netflix who will stream the show globally.