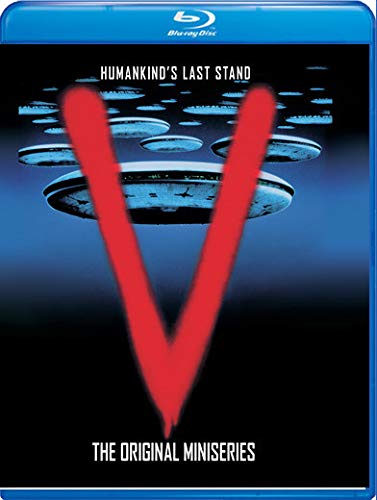 "V: The Original Miniseries" from 1983 has been remastered for release on Blu-ray Disc. The 1-disc edition from Warner Archive includes both Part 1 and Part 2 which together total 196 minutes.
There are also some bonus materials including audio commentaries from Writer/Director Kenneth Johnson, a behind-the-scenes documentary, and optional English SDH subtitles.
The Blu-ray presents the show in 1080p at 1.85:1 aspect ratio with DTS-HD Master Audio 2.0 sound. This is a Region A BD from Warner Bros.
"V" was nominated for 2 Primetime Emmys including Outstanding Achievement in Makeup and Outstanding Achievement in Music Composition for a Limited Series.
The original mini-series was followed by the 3-episode series "V: The Final Battle" in 1984 by Kenneth Johnson, the 19-episode series "V" (1984-1985) also by Kenneth Johnson, and the 23-episode "V" (2009-2011) from Kenneth Johnson and Scott Peters.
"V: The Original Mini-Series" was recently released in May, 2019 with "V: The Final Battle" in a new DVD edition. But the newly remastered episodes for Blu-ray are sure to offer the best quality print of this show yet.
"V: The Original Mini-Series" is list priced $19.99 and releases on Aug. 27, 2019. (Buy on Amazon)