It's Tuesday, August 13 and Marvel's Avengers: Endgame is now available on Blu-ray, 4k Blu-ray, and DVD today after an early digital release two weeks ago. Along with the common Blu-ray and 4k Blu-ray editions, there are several retailer exclusives you should know about before deciding on which packaged edition to buy. And, there's an upcoming Region Free Blu-ray 3D version coming soon. Avengers: Endgame is finally in stock selling on Amazon where you can buy the Blu-ray or 4k Ultra HD Blu-ray editions for $17.96 and $24.96, respectively. (It should be noted upon release date the units were being sold by 3rd parties but are now stocked and shipped by Amazon.) Here's a look at all the variations of Avengers: Endgame in packaged media.
DVD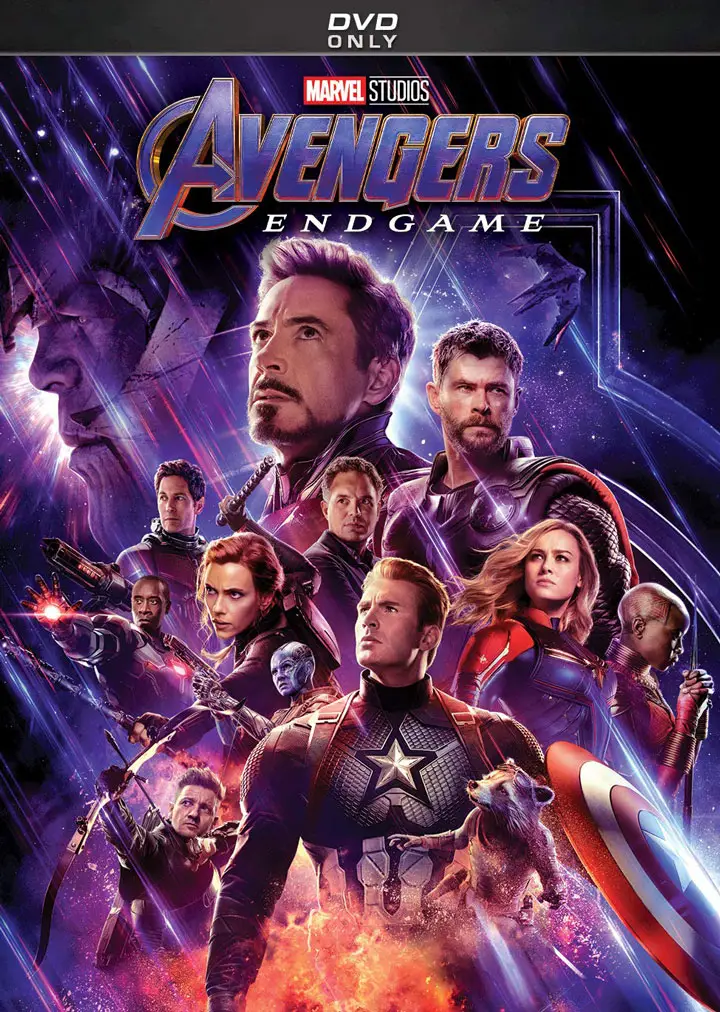 The DVD only edition presents Avengers: Endgame in 480p at 2.39.1 aspect ratio with English and Spanish 5.1 Dolby Digital audio as well as English 2.0 Descriptive Audio Language tracks. No bonus materials or digital copies are included. Price: $19.99 (Order from Amazon)
Blu-ray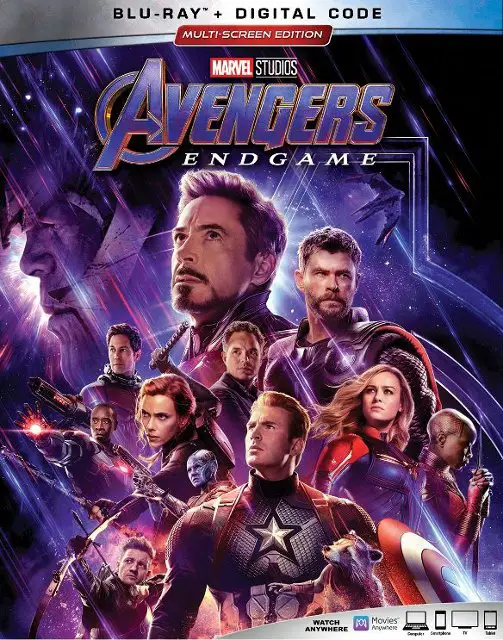 Avengers: Endgame is available in a single-disc "Multi-Screen" edition with Blu-ray, Digital Copy and bonus material but no DVD (a format previous Avengers films have followed). The film is presented in 1080p at 2.39.1 aspect ratio with a DTS-HD Master Audio 7.1 soundtrack. Price: $24.99 – $26.95 (Order from Amazon)
4k Blu-ray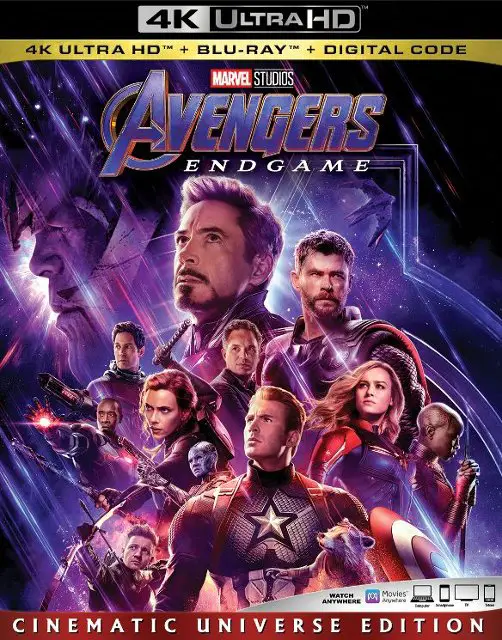 The 4k Ultra HD Blu-ray Cinematic Universe Edition of Avengers: Endgame includes a 4k Blu-ray, Blu-ray, and a Digital Copy of the film as well as bonus material. On 4k BD, the movie is presented in 2160p/HDR10 at 2.39:1 aspect ratio with Dolby Atmos / Dolby TrueHD 7.1 audio in English. Price: $24.95-$29.99 (Order from Amazon)
3D Blu-ray (Region Free)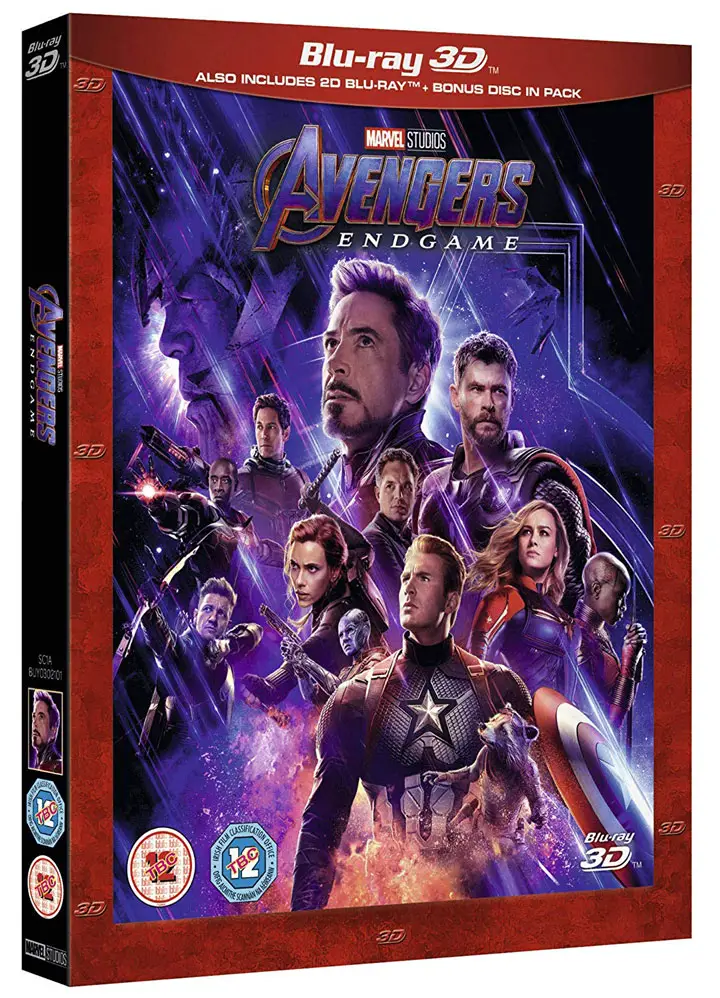 There is Region Free Blu-ray 3D edition of Avengers: Endgame that is not quite available yet in the US. The edition includes a 3D Blu-ray, Blu-ray plus Bonus Disc (however, no Digital Copy indicated on slipcover). Amazon has the edition listed for Dec. 2022 release but Walmart has it dated to arrive by Sept. 12, 2019. Price: $49.99
Best Buy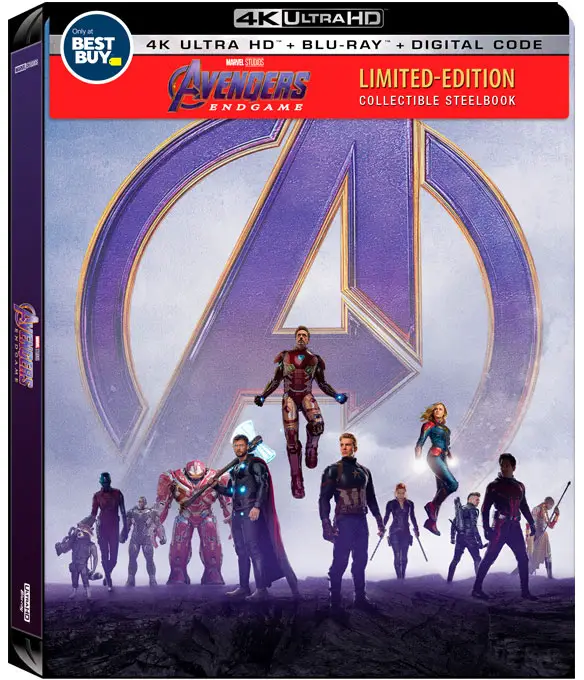 Best Buy has their usual 4k Blu-ray Limited Edition SteelBook with custom artwork of some of the Avengers heroes. The 3-disc edition from Marvel Studios and Disney includes an Ultra HD Blu-ray, Blu-ray, Bonus Disc, and Digital Copy to be redeemed with Movies Anywhere. Price: $34.99
Target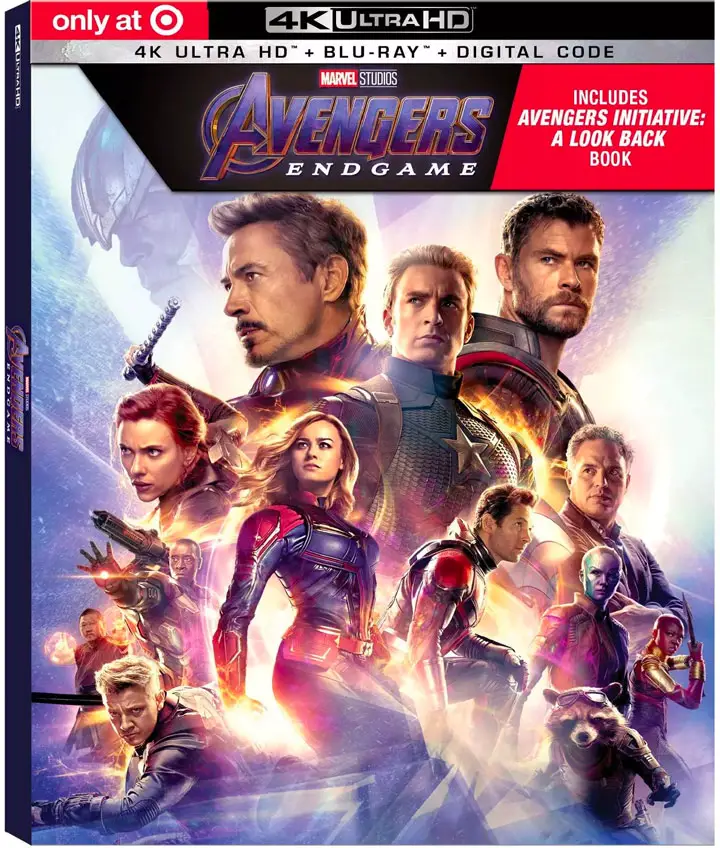 Target has an exclusive 4k Blu-ray edition of Avengers: Endgame with an Ultra HD Blu-ray, Blu-ray, Bonus Disc, and code to redeem a Digital Copy through Movies Anywhere. The 3-disc exclusive from Target contains a collectible book titled "Avengers Initiative: A Look Back" with full-color pages. Price: $34.99
Now, here's a look at the bonus materials included with Avengers: Endgame.
Blu-ray Bonus Features
"Remembering Stan Lee" – Filmmakers and cast honor the great Stan Lee in a fond look back at his MCU movie cameos.
"Setting The Tone: Casting Robert Downey Jr." – Hear the tale of how Robert Downey Jr. was cast as Tony Stark in the original Iron Man — and launched the MCU.
"A Man Out of Time: Creating Captain America" – Trace the evolution of Captain America with those who helped shape the look, feel and character of this compelling hero.
"Black Widow: Whatever It Takes" – Follow Black Widow's journey both within and outside the Avengers, including the challenges she faced and overcame along the way.
"The Russo Brothers: Journey to Endgame" – See how Anthony and Joe Russo met the challenge of helming two of the biggest films in cinematic history … back-to-back!
"The Women of the MCU" – MCU women share what it was like to join forces for the first time in an epic battle scene — and be part of such a historic ensemble.
"Bro Thor" – His appearance has changed but his heroism remains! Go behind the scenes to see how Bro Thor was created.
"Six Deleted Scenes" – "Goji Berries," "Bombs on Board," "Suckiest Army in the Galaxy," "You Used to Frickin' Live Here," "Tony and Howard" and "Avengers Take a Knee."
"Gag Reel" – Laugh along with the cast in this epic collection of flubs, goofs and gaffes from set.
"Visionary Intro" – Intro by directors Joe and Anthony Russo.
Audio commentary by directors Anthony and Joe Russo, and writers Christopher Markus and Stephen McFeely.
Editor's Note: This article originally claimed Amazon had Avengers: Endgame "in stock," but this was not entirely accurate at the time as the units were being sold by resellers.(Thanks @evercuriousgeek for pointing that out.) However, since then the units appear to be in stock and selling from Amazon with Prime. See the shopping cart above for updates on pricing and inventory.