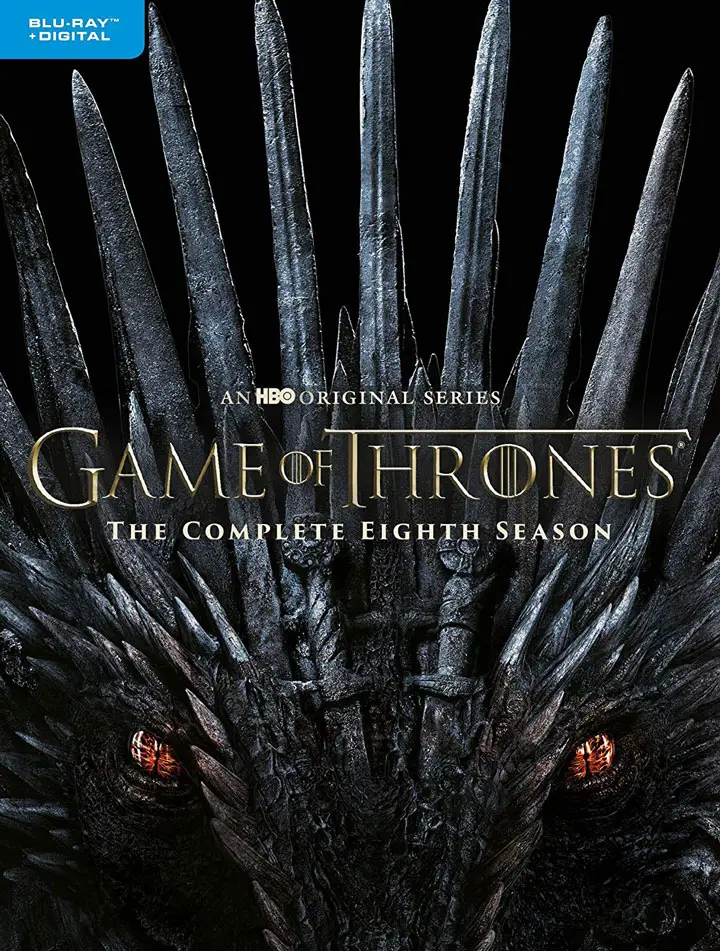 We finally got an official release date today for the disc editions of Game of Thrones: Season 8. The eighth and final season will hit stores on Tuesday, Dec. 3rd in several variations including a Platinum Blu-ray Edition, 4k Blu-ray SteelBook Edition with Sigil magnet, DVD, and Limited Edition SteelBook from Best Buy.
The official disc artwork has also been revealed! We weren't too far off on our mockup of the Game of Thrones: Season 8 packaging, at least in the dragon image used. Take a look at the newly-released official artwork for the Blu-ray, 4k Blu-ray, and DVD editions of the eighth and final season of the hit HBO show above and below.
Each Blu-ray edition comes with three discs and digital copies of the episodes. From the 4k Blu-ray packaging it appears the digital copies will only be available in HD (not 4k UHD) which would be consistent with Season 1 (the only other season currently available in 4k).
In addition to Season 8, Game of Thrones will also release to a Complete Collection with all eight seasons packaged in a 33-disc boxed set.
Game of Thrones: Season 8 is currently priced $44.99 (Blu-ray SteelBook Sigil Edition), $49.96 (Blu-ray 4k SteelBook w/Sigil), $44.99 (Blu-ray), and $34.95 (DVD). Game of Thrones The Complete Collection is selling for $249 US on Amazon.