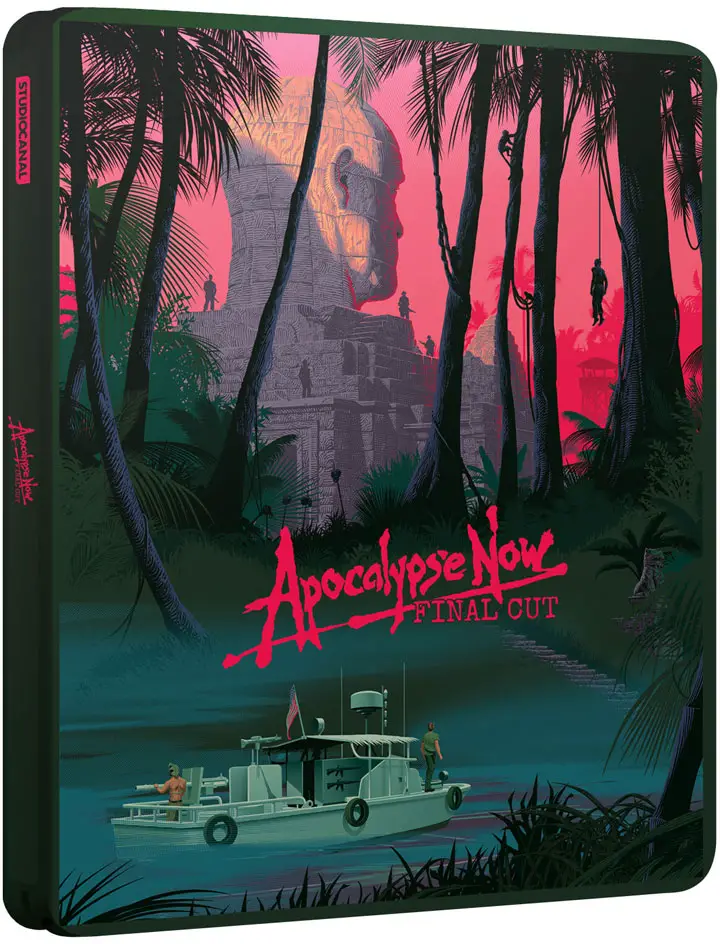 Francis Ford Coppola's masterpiece Apocalypse Now is one of the most anticipated 4k Blu-ray releases of the year having been painstakingly restored from the original film negatives to celebrate the film's 40th anniversary. Not to mention it's ranked 28th in AFI's "Greatest American Movies of All Time."
But did you know there's a limited edition SteelBook version of the UHD BD release?
The special edition features custom artwork showing the crew's boat "Erebus" (named for the deity of darkness in Greek mythology) and a giant monument of Colonel Kurtz (Marlon Brando) in the background. The SteelBook edition has a similar color palette to the standard-issue 4k edition (see pic below).
Zavvi's US store has the 4k SteelBook edition of Apocalypse Now listed for $43.49 (SRP: $53.99). The retailer shows the metal case in high resolution but only the front cover (assuming this is the final artwork as Zavvi often warns that "artwork is subject to change"). It would be great if Best Buy were to sell this SteelBook as well, but they're having issues with correctly listing even the standard 4k version.
Apocalypse Now: Final Cut releases to Ultra HD Blu-ray on Aug. 27, 2019 (the Zavvi SteelBook pushed to Sept. 16). The 4-disc edition includes three cuts of the film: The Final Cut (183 minutes), Redux Extended Cut (202 minutes), and Theatrical Version (153 minutes) as well as new and previously-released bonus material.
Get more details including video, audio, and extras in our Apocalypse Now 4k Blu-ray announcement.