Over the last year, there have been several Ultra HD Blu-ray announcements that really get us excited how the new format can bring new life to films that are already great, by adding 2160p resolution (essentially quadrupling the number of pixels), HDR (High Dynamic Range) for increased color depth, and upgraded audio to some titles with Dolby Atmos.
Alien (1979), Saving Private Ryan (1998) and the upcoming release of Black Hawk Down (2001) to 4k Blu-ray are among older films that didn't even have the advantage of 1080p Blu-ray when first released to home media, so seeing them in 4k is almost as good as the big screen.
Now, Lionsgate Home Entertainment will bring Francis Ford Coppola's masterpiece Apocalypse Now (1979) to Ultra HD Blu-ray on August 27, 2019.
Apocalypse Now: Final Cut was recently shown at the Beacon Theatre in New York after the film was remastered to 4k from the original negative and colorized with Dolby Vision HDR. Colorist Doug Delaney said when restoring Apocalypse Now one of the goals was to maintain the film's original look in the new master rather than modernize it. He mentioned the ability of Dolby's new technology to bring out low end "shadow" details that weren't possible before, which, along with the capabilities of expanding detail in bright areas may be HDR's most beneficial aspects.
According to the restoration team, over 11 months and 2,700 hours were spent on cleaning and restoring the film's 300,173 frames which were scanned from the original negative for the first time.
The soundtrack to Apocalypse Now was also upgraded to Dolby Atmos for an immersive sound experience, which audio engineers mixed specifically for home viewing with object-based audio that can travel around a room or even overhead with correct speaker placement.
The 6-disc Ultra HD Blu-ray edition of Apocalypse Now includes three cuts of the film: The Final Cut (183 minutes), Redux Extended Cut (202 minutes), and Theatrical Version (153 minutes) as well audio commentary from Director Francis Ford Coppola, and subtitles in English, English SDH, French, and Spanish.
What's more, the new 4k Blu-ray edition of Apocalypse Now includes a Tribeca Film Festival Q&A with Francis Ford Coppola and Steven Soderbergh and never-before-seen B-roll footage, along with previously-released extras such as additional scenes, photo gallery, several featurettes, and more (see list of extras below).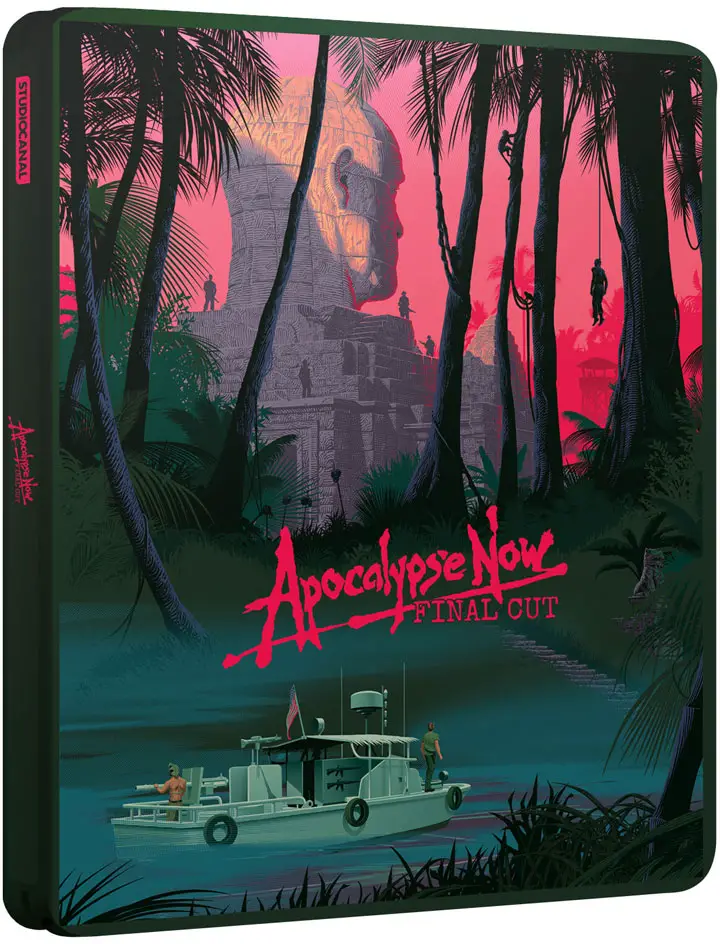 SteelBook Edition
There is also a Limited Edition SteelBook version with custom artwork that is listed on Zavvi US for $43.99 (List: $53.99). The release of the SteelBook edition has been pushed back to Sept. 16, 2019.
Check out the trailer below promoting the limited theatrical run, digital and 4k Blu-ray releases. You'll notice Apocalypse Now has never looked so sharp and the colors never so vibrant. But, will HDR overdo the color in this disc release? We'll find out soon enough. You can find out more about the restoration process from Dolby here.
Bonus Material:
Intro by Francis Ford Coppola
Audio Commentary by Director Francis Ford Coppola
An Interview with John Milius
A Conversation with Martin Sheen and Francis Ford Coppola
"Fred Roos: Casting Apocalypse" Featurette
The Mercury Theatre on the Air: Heart of Darkness – November 6, 1938
"The Hollow Men" Featurette
Monkey Sampan "Lost Scene"
Additional Scenes
"Destruction of the Kurtz Compound" End Credits
"The Birth of 5.1 Sound" Featurette
"Ghost Helicopter Flyover" Sound Effects Demonstration
"The Synthesizer Soundtrack" Article by Bob Moog
"A Million Feet of Film: The Editing of Apocalypse Now" Featurette
"Heard Any Good Movies Lately? The Sound Design of Apocalypse Now" Featurette
"The Final Mix" Featurette
"2001 Cannes Film Festival: Francis Ford Coppola" Featurette
"PBR Streetgang" Featurette
"The Color Palette of Apocalypse Now" Featurette
Disc Credits
Hearts of Darkness: A Filmmaker's Apocalypse (with Optional Audio Commentary by Francis and Eleanor Coppola)
NEW: Tribeca Film Festival Q&A with Francis Ford Coppola and Steven Soderbergh
NEW: Never-Before-Seen B-Roll Footage
NEW: Apocalypse Now Dolby featurette (HD)
NEW: A history of Apocalypse Now on Home Video (HD)
John Milius Script Excerpt with Francis Coppola Notes (Still Gallery)
Storyboard Collection
Photo Archive ▪ Unit Photography ▪ Mary Ellen Mark Photography o Marketing Archive ▪ 1979 Teaser Trailer  ▪ 1979 Theatrical Trailer ▪ 1979 Radio Spots ▪ 1979 Theatrical Program ▪ Lobby Card and Press Kit Photos ▪ Poster Gallery ▪ Apocalypse Now Redux Trailer
Sources: YouTube.com, Blu-ray.com, Dolby.com
Updates: Article updated with additional information and corrections.