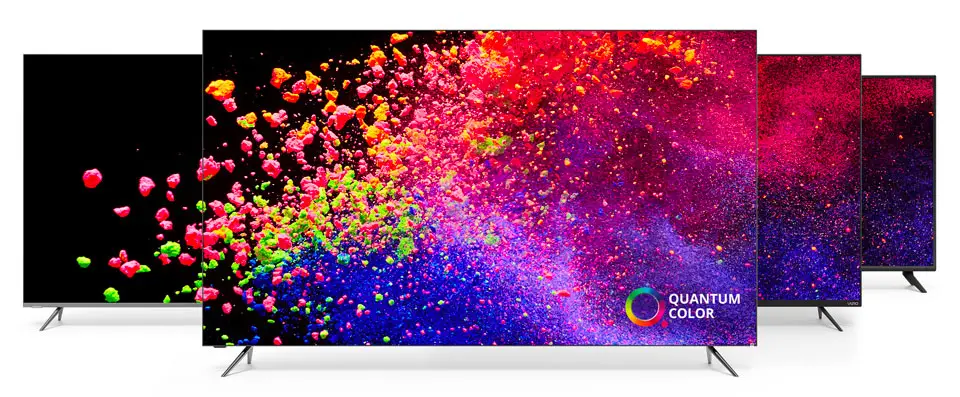 Vizio has announced the availability of their lineup of 2019 4k TVs, with the higher end models boasting Quantum Color display technology with up to 3,000 nits of peak brightness in their P-Series, and Clear Action 960/240Hz frame rate for smooth motion on more than half of the 2019 models.
Every 2019 4k Vizio model listed also supports High Dynamic Range with Dolby Vision, HDR10, and HLG, opening the market for consumers looking to play HDR content regardless of type on Digital 4k UHD movies and Ultra HD Blu-ray discs. Vizio made no mention of support for HDR10+ which improves the HDR10 specification.
All of the 2019 TVs also include VIZIO SmartCast 3.0 (with Chromecast built-in) that will soon support Apple AirPlay 2 and HomeKit with an update coming this summer.
Vizio 2019 4k HDR TV Lineup
| | | | | | | |
| --- | --- | --- | --- | --- | --- | --- |
| SKU | 4K HDR | COLOR | LOCAL DIMMING ZONES | ULTRABRIGHT | MOTION CLARITY | MSRP |
| PX75-G1 | 4K + Dolby Vision, HDR10, HLG | Quantum Color | 480 | 2700 | Clear Action 960/240Hz ERR | $3,499.99 |
| PX65-G1 | 4K + Dolby Vision, HDR10, HLG | Quantum Color | 384 | 3000 | Clear Action 960/240Hz ERR | $2,199.99 |
| P759-G1 | 4K + Dolby Vision, HDR10, HLG | Quantum Color | 240 | 1200 | Clear Action 960/240Hz ERR | $2,499.99 |
| P659-G1 | 4K + Dolby Vision, HDR10, HLG | Quantum Color | 200 | 1100 | Clear Action 960/240Hz ERR | $1,399.99 |
| M658-G1 | 4K + Dolby Vision, HDR10, HLG | Quantum Color | 90 | 600 | Clear Action 360/120Hz ERR | $999.99 |
| M558-G1 | 4K + Dolby Vision, HDR10, HLG | Quantum Color | 90 | 600 | Clear Action 360/120Hz ERR | $799.99 |
| M657-G0 | 4K + Dolby Vision, HDR10, HLG | Quantum Color | 20 | 400 | Clear Action 360/120Hz ERR | $899.99 |
| M557-G0 | 4K + Dolby Vision, HDR10, HLG | Quantum Color | 16 | 400 | Clear Action 360/120Hz ERR | $699.99 |
| M507-G1 | 4K + Dolby Vision, HDR10, HLG | Quantum Color | 16 | 400 | Clear Action 360/120Hz ERR | $549.99 |
| M437-G0 | 4K + Dolby Vision, HDR10, HLG | Quantum Color | 12 | 400 | Clear Action 360/120Hz ERR | $399.99 |
| V656-G4 | 4K + Dolby Vision, HDR10, HLG | Standard 4K Color | 12 | 400 | Clear Action 180/120Hz ERR | $629.99 |
| V556-G1 | 4K + Dolby Vision, HDR10, HLG | Standard 4K Color | 10 | 400 | Clear Action 180/120Hz ERR | $469.99 |
| V436-G1 | 4K + Dolby Vision, HDR10, HLG | Standard 4K Color | 10 | 400 | Clear Action 180/120Hz ERR | $299.99 |
| V755-G4 | 4K + Dolby Vision, HDR10, HLG | Standard 4K Color | Full Array | – | 120Hz ERR | $1199.99 |
| V705-G3 | 4K + Dolby Vision, HDR10, HLG | Standard 4K Color | Full Array | – | 120Hz ERR | $799.99 |
| V655-G9 | 4K + Dolby Vision, HDR10, HLG | Standard 4K Color | Full Array | – | 120Hz ERR | $599.99 |
| V605-G3 | 4K + Dolby Vision, HDR10, HLG | Standard 4K Color | Full Array | – | 120Hz ERR | $529.99 |
| V555-G1 | 4K + Dolby Vision, HDR10, HLG | Standard 4K Color | Full Array | – | 120Hz ERR | $449.99 |
| V505-G9 | 4K + Dolby Vision, HDR10, HLG | Standard 4K Color | Full Array | – | 120Hz ERR | $329.99 |
| V435-G0 | 4K + Dolby Vision, HDR10, HLG | Standard 4K Color | Full Array | – | 120Hz ERR | $299.99 |
| V405-G9 | 4K + Dolby Vision, HDR10, HLG | Standard 4K Color | Full Array | – | 120Hz ERR | $259.99 |
[amazon_link asins='B07KJB92L9′ template='ProductGrid' store='hdrep-20′ marketplace='US' link_id='e24b2d77-6d46-42d8-a206-52205e75c724′]