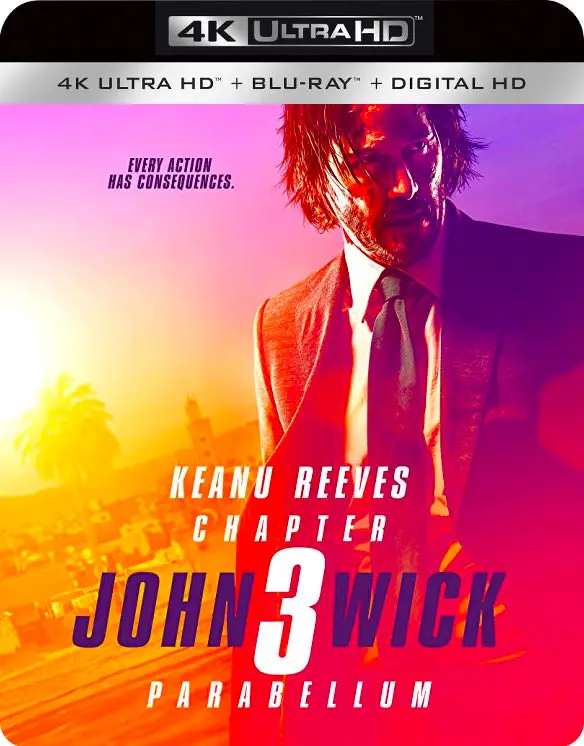 Pre-orders are already available for John Wick: Chapter 3 – Parabellum on Blu-ray and Ultra HD Blu-ray, the third chapter in the John Wick franchise that earned $92M at the box office worldwide on its opening weekend.
As you may have expected the film will be available in three disc variations including Blu-ray (MSRP: $39.99), Ultra HD Blu-ray (MSRP: $42.99), and DVD (MSRP: $29.95). The list prices have not been dropped yet, but as you know Amazon charges the lowest price listed upon ship date.
The first John Wick film on 4k Blu-ray was notably one of the cheapest Ultra HD Blu-ray releases, selling for $15.99 upon release date in 2017 (currently $14.96 on Amazon). John Wick 2: Chapter 2 on 4k Blu-ray is priced even less expensive, selling for only $13 on Amazon.
On 4k Blu-ray, John Wick: Chapter 3 – Parabellum will likely be presented in the same format as 'Chapter 2' with HDR10 and a Dolby Atmos/Dolby TrueHD 7.1 soundtrack in English. The Blu-ray edition should also feature Dolby Atmos audio as did Chapter 1 and Chapter 2.
That isn't the official packaging artwork above, by the way, just a quick mockup we made using the movie poster art. We'll post the official artwork once released, as well as detail any retailer exclusives coming from Best Buy, Target or Walmart.
Also Read: Captain Marvel Blu-ray, Digital, Release Dates & Artwork Revealed