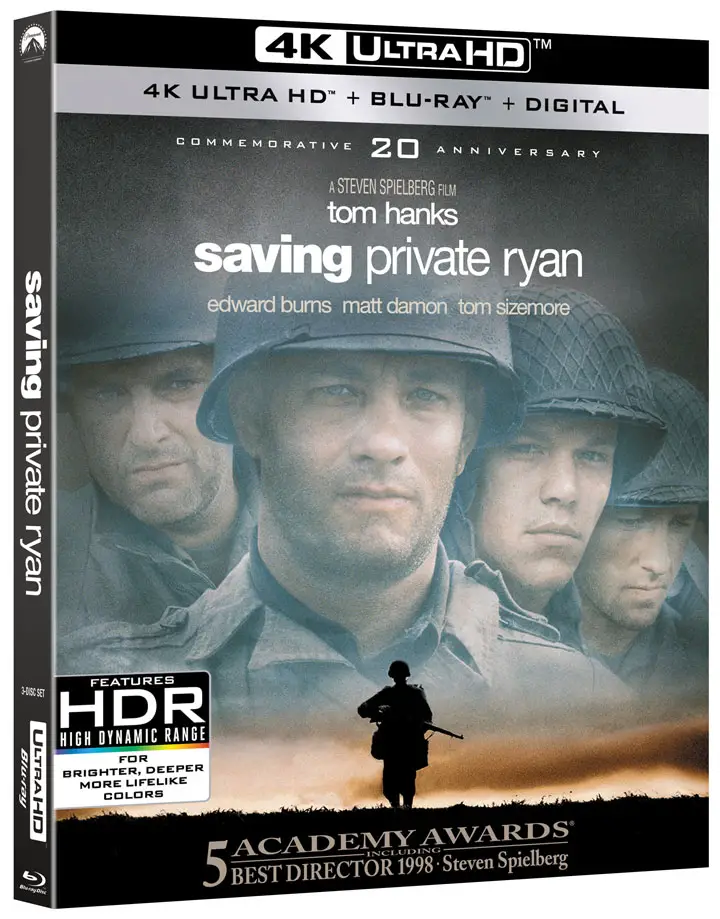 Saving Private Ryan is just one of those movies we've been waiting for in 4k. Now it's happening, with an Ultra HD Blu-ray release that celebrates the 20th anniversary of the film's theatrical premiere in 1998.
The Ultra HD Blu-ray disc from Paramount is presented in 2160p with Dolby Vision HDR for a wider range of colors never before available in home media. And, the English soundtrack has been remixed to Dolby Atmos (backed by the original 5.1 Dolby Digital track) for a truly immersive experience. 
The 4k Blu-ray combo pack from Paramount will also include a Blu-ray and Digital Copy, as well as over three hours of previously-released bonus material such as interviews, narration and documentaries.
Saving Private Ryan won five Academy Awards including Best Director (Steven Spielberg), and was nominated for another six. The movie, starring Tom Hanks, Matt Damon, Edward Burns and Tom Sizemore among the all-star cast, was named by the AFI as one of its 100 greatest American films. 
Saving Private Ryan 20th Anniversary Commemorative Edition on Ultra HD Blu-ray will release on May 8, 2018. The 4k disc can be purchased from Amazon for $14.99 (List: $27.99).