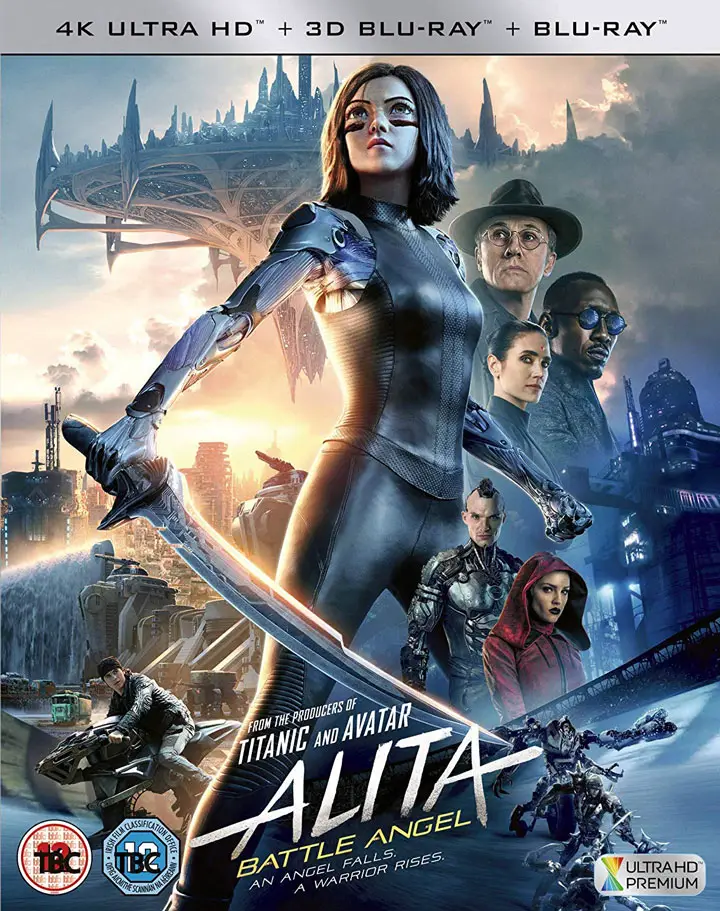 Alita: Battle Angel was just released to theaters last February, so we're still waiting for announcements about the disc and digital versions of the film. But this Region B/2 combo edition of the movie just popped up on Amazon and it has got us thinking about tri-format Blu-ray packs, again.
As you may or may not know, Region B/2 discs won't play on Blu-players sold in North America and other Region A/1 areas such as Central America, South America, Japan, and Southeast Asia (see Sony's reference to region codes).
If it's real (one might question the use of the official movie poster as the Blu-ray package art), the combo edition from 20th Century Fox Home Entertainment includes a 4k Ultra HD Blu-ray, 3D Blu-ray, and Blu-ray Disc (note the packaging doesn't indicate a Digital Copy like most US editions do).
Multi-format editions in the US typically include a combination of 4k Blu-ray/Blu-ray/Digital or Blu-ray/DVD/Digital formats. 3D Blu-ray combo editions, offered infrequently, usually have a 3D Blu-ray, Blu-ray, and Digital Copy.
Looking back, it's hard to recall any Region A/1 releases that include all three Blu-ray formats since The Angry Birds Movie in 2016. Does that mean there is no demand for the format?
Most of us who buy 4k Blu-ray combos are obviously playing the 4k discs and not the Blu-ray. (Why wouldn't you? Unless doing a quality comparison between the two.) So, the Blu-ray Discs just sit in the cases untouched.
On the other hand, DVDs packaged in Blu-ray combos may get played more due to the saturation of DVD players in cars, desktops, and laptops.
But 3D Blu-ray is another story. Although we wrote about the death of 3D TVs a couple of years ago the format is still in demand for those who own 3D TVs. And, there are still motion pictures being released in 3D like Dumbo, How to Train Your Dragon: The Hidden World, Avengers: Endgame, and of course Alita: Battle Angel.
Does that mean we should look at combining 4k Blu-ray and 3D Blu-ray formats? As of now, if a consumer has a 4k TV that supports 3D they either have to make a choice between the two or buy separate Blu-ray editions (essentially ending up with six copies of the film: One 4k Blu-ray, one 3D Blu-ray, two Blu-ray, and two codes to redeem Digital Copies).
How about you? Would you buy a 3-format Blu-ray edition of Alita: Battle Angel? Take the poll below.
Would you buy a 4k Blu-ray, 3D Blu-ray, Blu-ray (3-format) combo edition of a movie?

— HD Report (@hdreport) April 24, 2019