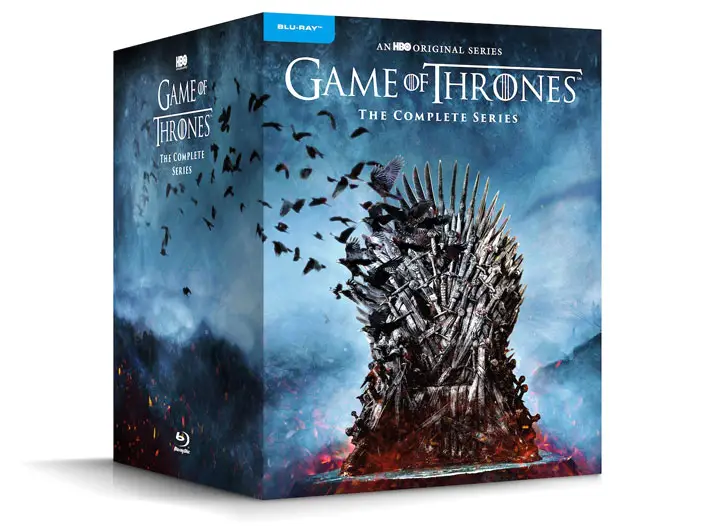 [Note: This article has been revised with product updates]
Game of Thrones just aired the first episode of its final season and with only five more to go, it may not be too long before for the home media release of Season 8.
Some of us have been waiting diligently for a complete collector's set of Blu-ray Discs — foregoing the temptation to buy Seasons 1-7 in the 7-disc set released last summer. (We even asked: Why would you buy this collection?) Warner did the same thing a year earlier for Seasons 1-6 in that beautifully-packaged 6-disc box set with mosaic artwork on the slipcover. And other seasons have been collected and boxed together.
But a full collected edition of all seasons was inevitable, and that boxed set showed up on BestBuy.com for $249 and Amazon for $249 as  Game of Thrones: The Complete Collector's Set. (There was a boxed set in all black labeled as a Limited Edition but it seems to have been either an early mockup or replaced by this package design).
Another option has been listed on Amazon without the intricate package design. This Blu-ray edition (pictured above) is aptly named Game of Thrones: The Complete Series and costs about $50 less. (List: $282.99 Price $199.99).
It was surprising, in retrospect, that a boxed set was released containing only Seasons 1-7 with full awareness the last season was on the way. Warner/HBO could have included extra space in the edition which would have made the box set complete (like the way the Bond 50: James Bond Collection included a disc sleeve for Spectre which hadn't hit theaters yet when the collection was released). But that collection was much different. The GOT Seasons 1-6 and Seasons 1-7 collections were simply made up of bundled single-season Blu-ray cases.
Unfortunately, there hasn't been any word yet of a full collector's set on Ultra HD Blu-ray, even though Season 1 is available in 4k (now on sale for only $29.99) and Season 8 will arrive the same day as The Complete Series. An entire collection in 4k would likely be much more expensive than the standard Blu-ray set above.
We expect Game of Thrones: The Complete Collector's Set to end up $159 or $179 once the smoke clears (keep in mind Amazon will charge the lowest price upon ship date if you pre-order the edition). A 4k Blu-ray boxed set would likely cost an extra $40 or so. However, considering Seasons 2-7 have not been released to 4k Blu-ray yet that collection may be at least a year away.
Special features on the Complete Series include a reunion special, bonus content, and previously released exclusive videos that total over 15 hours.
Game of Thrones: The Complete Collection / Game of Thrones: The Complete Series Blu-ray Bonus Features:
Game of Thrones: Reunion Special: A reunion show shot live in Belfast with the cast, both past and present, hosted by Conan O'Brien and available exclusively on these complete series collections. The reunion special is assembled in segments focused on Houses Lannister, Stark, & Targaryen and concludes with the key players all onstage for their final reflections on the years they shared in Westeros and Essos.
Bonus content and retail exclusive videos from previously released individual season box sets, totaling more than 15 hours of extra materials for fans to explore when they've finished watching the series.
The Complete Series / Season 8 Features:
Game of Thrones: The Last Watch: A documentary featured on DVD in two parts by filmmaker Jeanie Finlay chronicling the making of the final season.
When Winter Falls: Exclusive 30-minute featurette with showrunners David Benioff and D.B. Weiss, along with major stars and behind-the-scenes players, breaking down all that went into the colossal filming of the "Battle of Winterfell" in Season 8, Episode 3.
Duty is the Death of Love: A compelling look at how the team behind Game of Thrones and its major stars, including Kit Harington, Peter Dinklage and Emilia Clarke, brought the show to its conclusion in the series finale, "The Iron Throne."
Audio Commentaries: 10 Audio Commentaries with cast and crew, including the show's creators, Benioff and Weiss, on the final season.
Deleted and Extended Scenes: 5 never-before-seen deleted or extended scenes from season 8.
Histories and Lore: New animated pieces giving the history and background of notable season 8 locations and storylines.