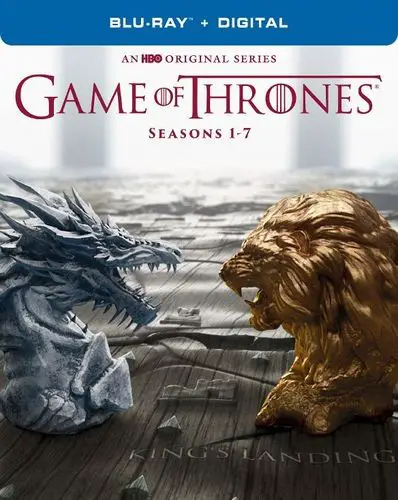 Game of Thrones: Seasons 1-7 has just been made available to pre-order in 7-disc Blu-ray or DVD editions with a total run time of 63 hours and 20 minutes. But why would anyone buy this boxed set knowing the eighth and final season is right around the corner?
Here are some reasons why:
Season 8 (what some might call Season 7, Part 2) is slated for 2018 but still long away from being released. During that time what better to do than re-watch all seven seasons in sequence?
The package artwork is just really cool looking with a Targaryen dragon and Baratheon lion facing each other. Diehard GOT fans might want it just as a collectible item.
The 7-disc Blu-ray edition of Game of Thrones: Seasons 1-7 includes Digital HD copies of all episodes, so you can download or stream the shows wherever there's internet.
Finally, and the most practical reason, the price of the Seasons 1-7 edition is about half the price of each season if purchased individually on Blu-ray.
We added up all 7 seasons of Game of Thrones based on current prices at Amazon and the total came to about $275. We also calculated the total of all seasons if purchased in Digital HD from Vudu (where the digital copies can be redeemed) and it came to about $260.
Right now Amazon has Game of Thrones: Seasons 1-7 selling for $139.99 (List: $229.99) for a discount of $90.00. There's also a DVD version (that doesn't come with digital copies) selling for $129.99 (List: $189.99) for a savings of $60.00 (32%).
Of course, not all the bonus materials that come with each single-season edition are included, but if you're only interested in the episodes the Seasons 1-7 bundle is a great buy.
[amazon_link asins='B07617BK8N' template='ProductGrid' store='API-user-hdr' marketplace='US' link_id='b28e797a-b4f8-11e7-a229-e1d270a42afa']