Still playing in theaters, the Tim Burton-directed adventure Dumbo is already available to pre-order on Blu-ray Disc in the form of retailer exclusives from Best Buy and Target. Walmart may also list their own edition to go along with standard Blu-ray, 4k Blu-ray, and maybe 3D Blu-ray editions. Here's a look at the variations available.
Best Buy SteelBook
If you're someone who gets excited about packaged media, this Dumbo SteelBook edition from Best Buy is likely to grab your attention. With retro-looking, custom artwork the special case features Dumbo on the cover and circus imagery on the back and inside. It's worth mentioning this is a 4k Blu-ray combo edition with Ultra HD Blu-ray, Blu-ray, and Digital Copy (a Blu-ray/DVD combo is not listed). Price: $34.99 (view product)
Target Exclusive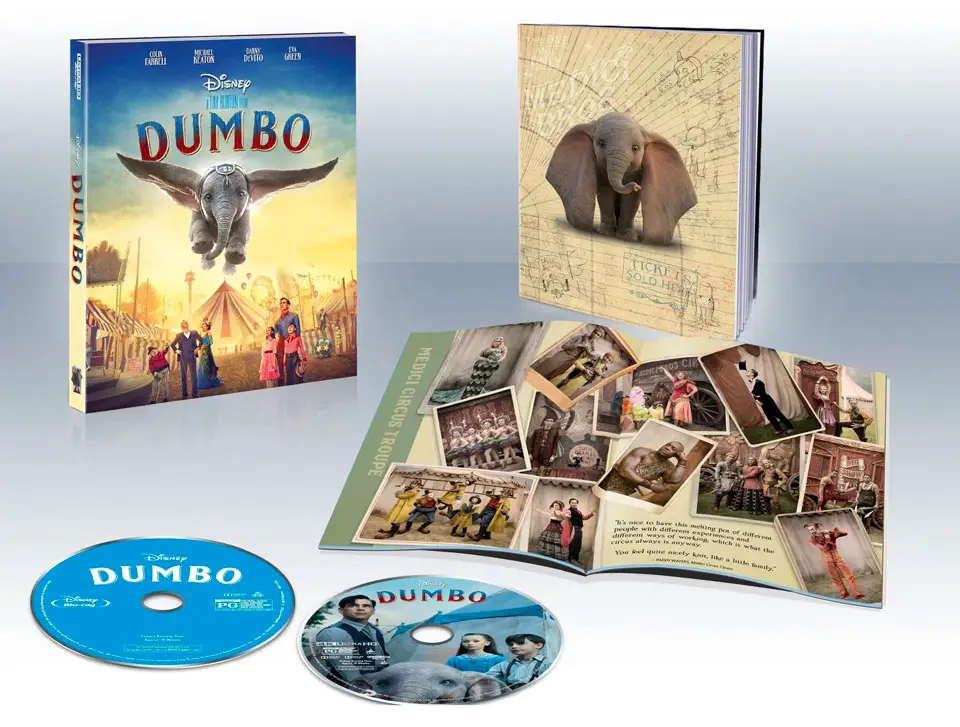 Target's exclusive Ultra HD Blu-ray edition of Dumbo includes Limited Edition Filmmaker Gallery Book along with a 4k Blu-ray, Blu-ray, and code to redeem a Digital Copy of the film via Movies Anywhere. If you're already a collector of [email protected] exclusives, this 2-disc edition is a must-have for your collection. At this time we only found a 4k Blu-ray Combo edition (no Blu-ray/DVD combo listed). Price: $34.99 (view product).
The Film
Dumbo stars Colin Farrell, Eva Green, Michael Keaton, and Danny DeVito based on the story by Helen Aberson and Harold Pearl. The movie released to theaters in the US on March 29, 2019, and has so far earned $267M worldwide.
You might also be interested in: 'Captain Marvel' 4k Blu-ray, SteelBook & Retailer Exclusives