Disney's Captain Marvel released to theaters on March 9th earning a record-breaking $455M worldwide over the weekend. As a result, you can expect this to be one of the biggest home media releases of the year. And, Best Buy and Target have wasted no time making pre-orders available for exclusive Blu-ray editions. Here's a look at all the disc variations of Captain Marvel available on June 11, 2019. (Order from Amazon)
Standard Blu-ray & 4k Blu-ray Editions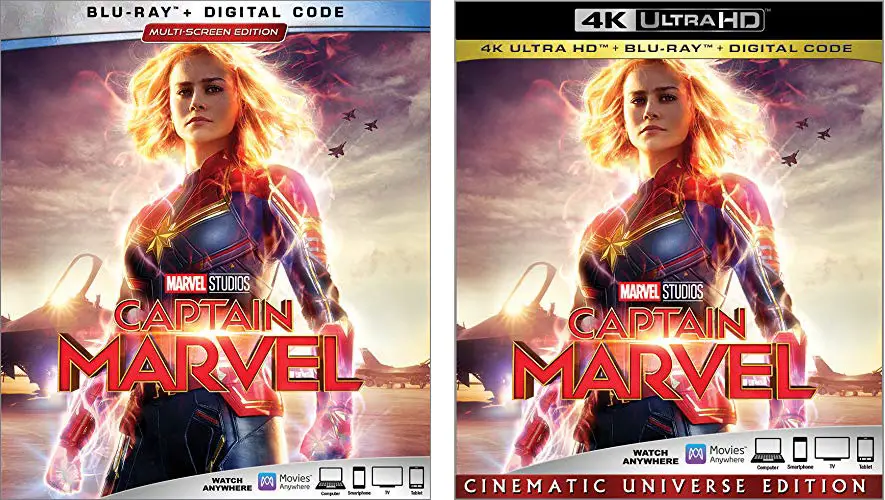 Captain Marvel will release to a "Multi-screen Edition" with Blu-ray and Digital Copy and a 2-disc "Cinematic Universe Edition" with 4k Blu-ray, Blu-ray, and Digital Copy. Both editions include English 2.0 Descriptive Audio, Spanish and French 5.1 Dolby Digital overdubbed tracks, and subtitles in English SDH, Spanish and French.
The film is presented in 2.39:1 widescreen at 1080p (Blu-ray) and 2160p (4k Blu-ray). The Ultra HD Blu-ray edition also features High Dynamic Range color with HDR10. For sound, the Blu-ray offers English DTS-HD Master Audio 7.1 while the 4k Blu-ray adds more immersive sound with Dolby Atmos.
Bonus materials include deleted scenes, gag reel, featurettes Big Hero Moment, The Origin of Nick Fury, The Skrulls and the Kree, audio commentary and more. Captain Marvel is selling for $24.99 (Blu-ray) and $29.99 (Ultra HD Blu-ray).
Best Buy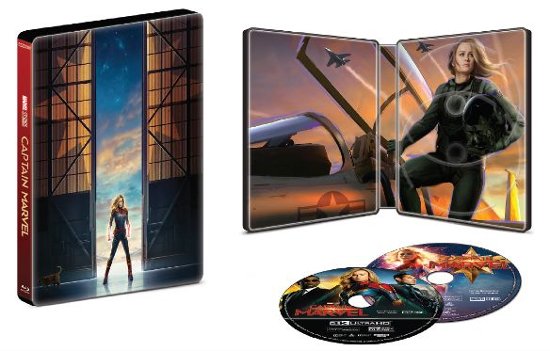 Best Buy has a limited SteelBook edition of Captain Marvel with the hero herself on the cover, back and inside spread. The special aluminum case is a collectible item for many who still treasure packaged media, and this one comes in a combo edition with 4k Blu-ray, Blu-ray and a Digital Copy. Best Buy has pretty much foregone the Blu-ray/DVD combo in their limited editions, so if you're looking for a DVD for your car player you'll have to purchase separately. The 4k Blu-ray SteelBook edition of Captain Marvel sells for $34.99 at Best Buy.
Target
Target's exclusive 4k Blu-ray edition of Captain Marvel has custom artwork on the cover featuring Brie Larson, Samuel L. Jackson, Jude Law and "Goose" the cat. The 2-disc combo includes a 4k Blu-ray, Blu-ray and code for a Digital Copy along with Target's tradition of a photo book, this time with a 40-page filmmaker look at the movie. The exclusive edition (only available in Ultra HD Blu-ray) sells for $34.99 at Target.
Walmart
Walmart will likely be selling an exclusive edition of Captain Marvel and we'll fill in the details here when we get them. [Update 5/14/19: No Walmart exclusives listed yet.]
Also Read: 'Captain Marvel' Blu-ray, Digital, Release Dates & Artwork Revealed

[amazon_link asins='B07QLB785M,B07PDTXFCY' template='ProductGrid' store='hdrep-20′ marketplace='US' link_id='441b9e13-155d-4810-9ba0-64540c5875ed']