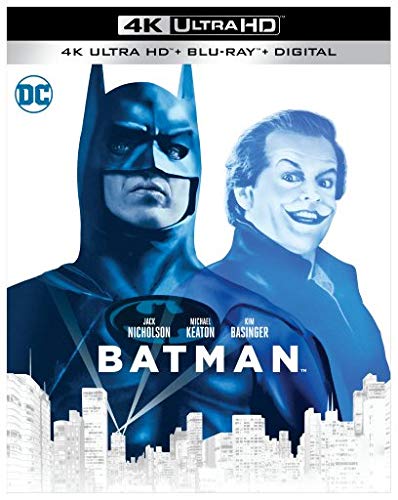 But here's hoping the 4k transfers look better than the cover art!
Pre-orders are up for the eighties and nineties series of Batman films including Batman (1989), Batman Returns (1992), Batman Forever (1995), and Batman & Robin (1997) releasing to 4k Ultra HD Blu-ray on June 4. In addition, a bundled 4k Film Collection will release on Sept. 17 with all four singles enclosed in a slipcase.
According to Warner Home Media the movies have been newly remastered in 4k and will each feature upgraded Dolby Atmos soundtracks.
Bonus materials combined add up to over 17 hours of previously released extras, such as full-length commentaries by director Tim Burton on Batman and Batman Returns and director Joel Schumacher on Batman Forever and Batman & Robin. Each combo pack also includes a digitally remastered Blu-ray Disc of the film, along with a digital copy.
But the Blu-ray package art? It just doesn't look finished. Many comments on the web ask who approved the art direction of these new 4k editions. The press release refers to "collectible packaging with new art designed in stunning glossy retro colors reminiscent of the 1980's and 1990's era when the films were originally released in theaters." Well, let's hope the packaging looks better on the shelves. (Scroll down for the rest of the cover art.)
Not all of these films are among favorites for fans of the Batman character and franchise. Batman & Robin, especially, is regarded as one of the worst, if not goofiest Batman films of all time. But Batman stars Michael Keaton as the Caped Crusader who many call the best film Batman actor of all time. The movie also features an all-star cast with Jack Nicholson as the Joker, Kim Basinger as Vicki Vale, Billy Dee Williams as Harvey Dent, and Jack Palance as Grissom.
In Batman Returns Keaton reprises his role as Batman but this time is joined by Michelle Pfeiffer who was cast perfectly as Catwoman. Danny DeVito plays the role of Penquin, and Christopher Walken stars as the Tim Burton-created villain Max Shreck.
Batman Forever brought in Val Kilmer as Batman, along with Tommy Lee Jones as "Two-Face" (Harvey Dent), and Jim Carrey as the Riddler. Nicole Kidman stars as Dr. Chase Meridian and Chris O'Donnell as Batman's sidekick Robin (but did Batman need a sidekick?)
It will be interesting to see which of these four Batman films sells the most copies on Ultra HD Blu-ray. We would guess either Batman or Batman Returns given the Keaton factor. Right now Amazon has Batman listed higher than the other titles in their "Featured" pre-orders list.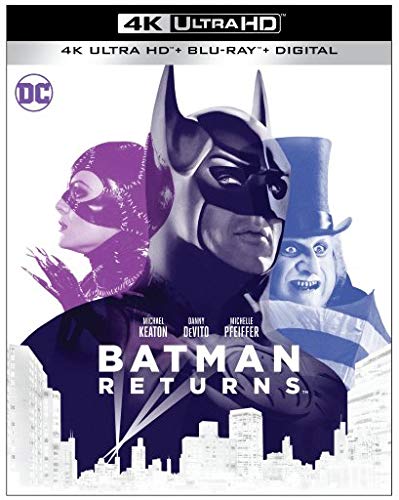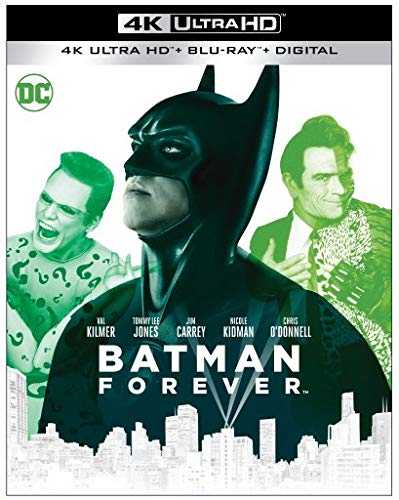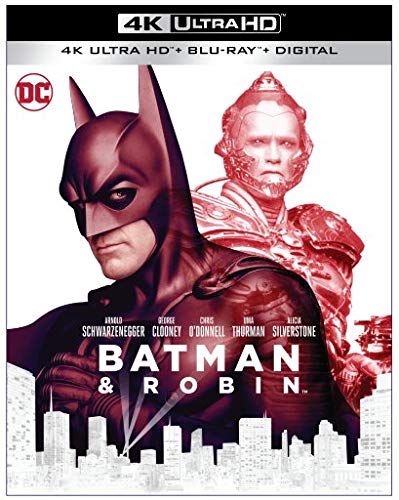 Also Read: Best Buy to sell Batman 4K Film Collection in SteelBook case
[amazon_link asins='B07Q9VWJ2K,B07QBVFKWY,B07Q62JJC1,B07QBVFKWX,B07Q76MTZC' template='ProductGrid' store='hdrep-20′ marketplace='US' link_id='06320c44-2c4e-418b-8769-822079c5edf8′]