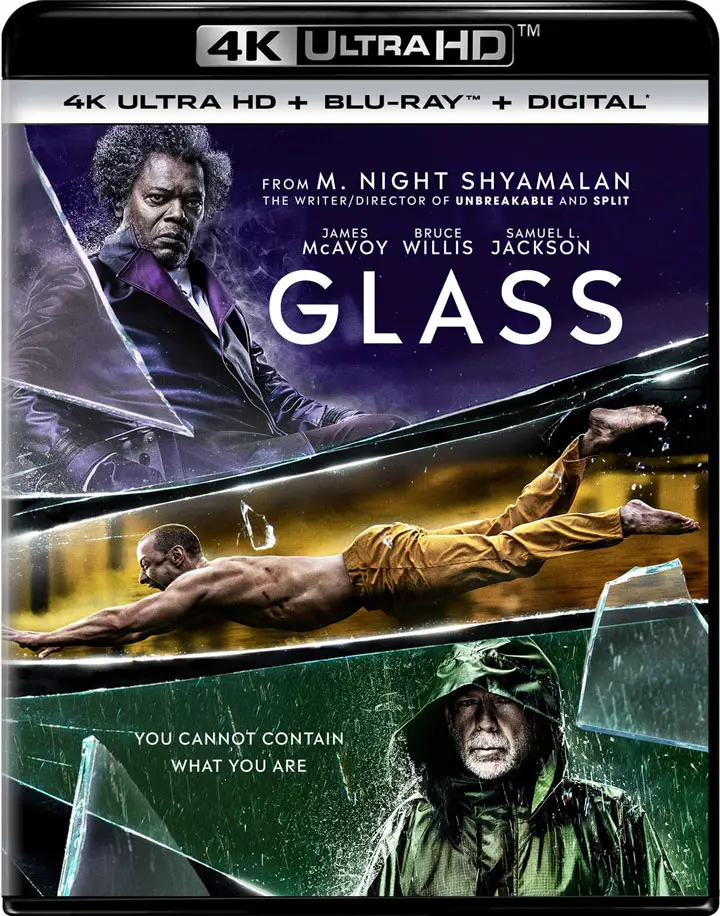 We've got the artwork and details for Universal's Glass on Blu-ray and 4k Blu-ray scheduled to release on April 16, 2019.
The cover art for the Blu-ray, 4k Blu-ray and DVD editions of Glass feature actors James McAvoy, Bruce Willis and Samuel L. Jackson in a kind of triptych superimposed by broken glass. The retailer exclusives, of course, offer different artwork than these common editions.
On Blu-ray and 4k Blu-ray Glass is presented at 2.39:1 widescreen aspect ratio in either 1080p (Blu-ray) or 2160p (Ultra HD Blu-ray) video resolution. The 4k edition also features High Dynamic Range with the HDR10 specification. And, both Blu-ray editions feature Dolby Atmos in English language and Dolby Digital 5.1 in English, French and Spanish.
Glass can be ordered from Amazon for $22.99 (Blu-ray), $29.99 (4k Blu-ray) or $18.99 (DVD).
Also check out all the exclusive retailer editions of Glass from Best Buy, Target and Walmart.