M. Night Shyamalan's Glass has only been in theaters for a month but is already up for pre-order on disc and digital. The Blu-ray, 4k Blu-ray, and DVD editions are scheduled to release on April 16, 2019. The digital versions will likely release two weeks earlier. Here's a breakdown of home media options already available. Be sure to check back soon for further updates.
On Digital
In digital formats Glass is available to pre-order on services such as iTunes, Google Play and Vudu. The movie can be pre-purchased in Digital SD, HD and UHD for about $19.99. Apple iTunes and Google Play, however, do not have an option to purchase the 4k UHD version as of today.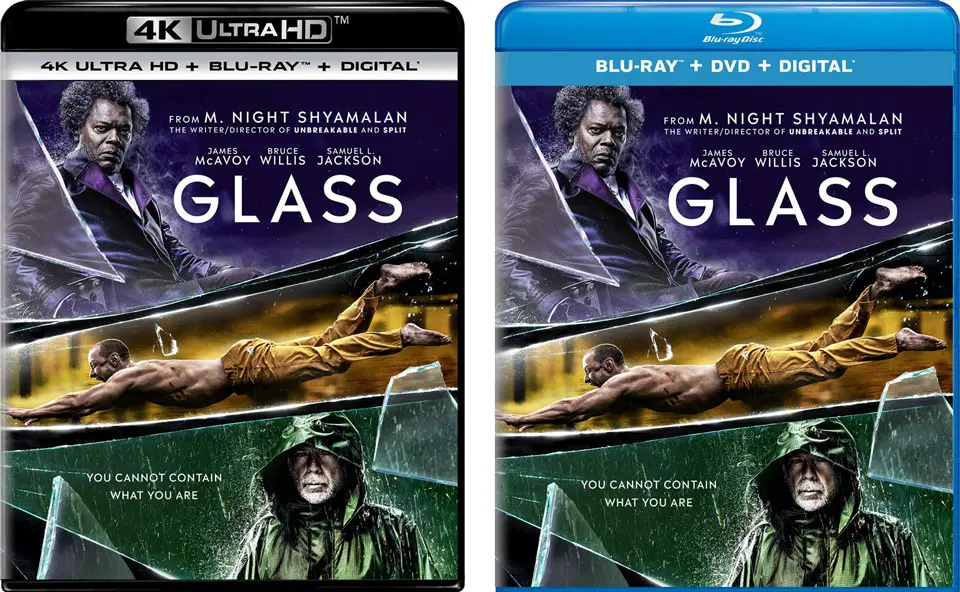 On Blu-ray & DVD
Glass will be available on Blu-ray, 4k Blu-ray, and DVD, as well as retailer exclusives (see below) on April 16, 2019. The 2-disc Blu-ray editions include an extra disc (either DVD or Blu-ray) and code to redeem a Digital Copy. Official package art, bonus materials, and disc specs have yet to be released.
Specifications
On Blu-ray and 4k Blu-ray Glass is presented at 2.39:1 widescreen aspect ratio in either 1080p (Blu-ray) or 2160p (Ultra HD Blu-ray) resolution. The 4k edition also features High Dynamic Range with the HDR10 specification. And, both Blu-ray editions feature Dolby Atmos in English language and Dolby Digital 5.1 in English, French, and Spanish.
Bonus Material
Alternate Opening and Deleted Scenes
A Conversation with James McAvoy and M. Night Shyamalan
Bringing the Team Back Together
David Dunn vs. The Beast
Glass Decoded
Breaking Glass: The Stunts
Connecting the Glass Universe
M. Night Shyamalan: Behind the Lens
and more
Retailer Exclusives
Best Buy has an exclusive 4k Blu-ray edition of Glass with custom packaging and three collectible character cards. This is a bit of a switch for Best Buy who usually has SteelBook editions with nothing exclusive except the packaging. The 2-disc edition sells for $29.99.
Target's exclusive SteelBook edition of Glass is a rarity for the retailer, and so far the best-looking cover art in our opinion. Unfortunately for home theater geeks this edition is only available in Blu-ray, not Ultra HD, so 4k TV owners may want to skip this one. Regardless, the edition can be purchased for $27.99.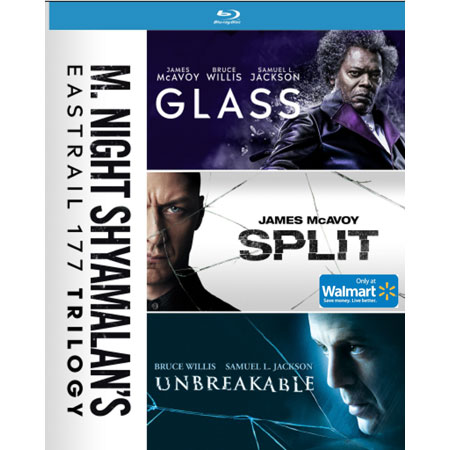 Walmart is taking pre-orders on an exclusive M. Night Shyamalan Triple Feature Blu-ray edition with Glass, Split, and Unbreakable for $37.92.
On-Demand Rentals
Not sure you want to own Glass? As with 99% of new movies released for home viewing Glass will be available to rent On-Demand day-and-date with the Blu-ray and DVD releases.
Pre-Order
Glass can be ordered from Amazon for $22.99 (Blu-ray), $29.99 (4k Blu-ray) or $18.99 (DVD). The digital version can be pre-ordered from your favorite service for $19.99 (SD, HD or UHD if available).
[amazon_link asins='B07M6S8LYH,B07MLB1D7Y' template='ProductGrid' store='hdrep-20′ marketplace='US' link_id='e0103109-7598-4264-b0a5-e8314245c51d']