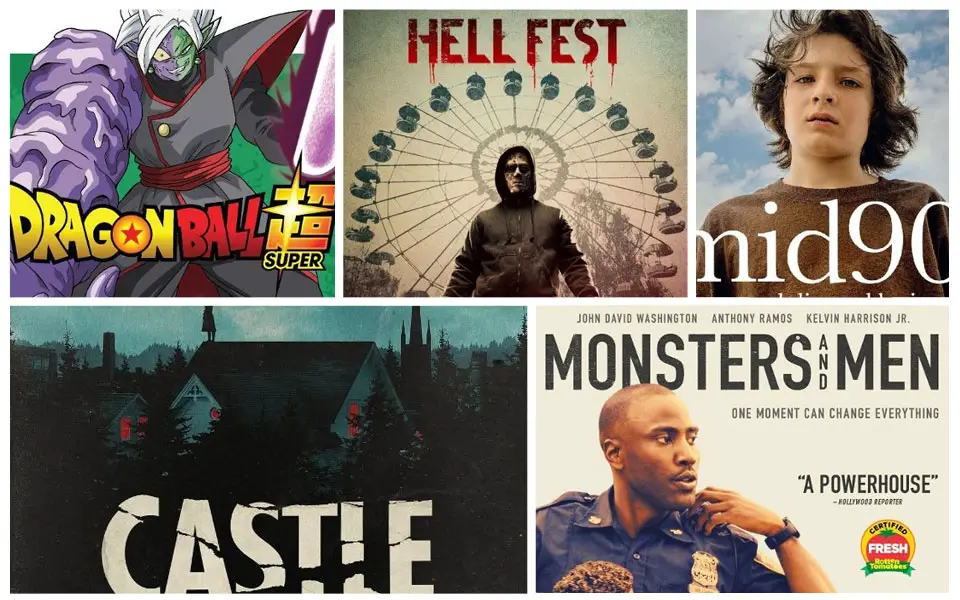 Want to know what's new on Blu-ray this week? It's "New Release Tuesday" and we've counted about 50 new titles to check out.
From one of the most popular animated series of all time Dragon Ball Super: Part Six hits stores on Blu-ray in a 2-disc collection containing Episodes 66-78 along with interviews, trailers and opening/closing songs.
The original Hulu series Castle Rock from producers Stephen King and J.J. Abrams drops on both Blu-ray and 4k Blu-ray in 2-disc editions from Warner Home Media. Each edition also includes two bonus featurettes and 10 "Inside the Episode" extras.
And, from an executive producer of The Walking Dead, Hellfest is now available on Blu-ray 4k Blu-ray in combo packs that include an extra disc and digital copy. To our delight, audio is provided in DTS:X and DTS-HD Master Audio 7.1 (English).
Here are the new Blu-ray titles for the week of Jan. 8, 2019. Simultaneous Blu-ray / 4k Blu-ray releases are indicated within title listing.
New on Blu-ray Disc, Jan. 8, 2019
TV
Movies
Mid90s (2018)
Hellfest (2018) [Blu-ray, 4k Blu-ray]
The Great Battle (2018)
Time Freak (2018)
Monsters and Men (2018)
An Evening with Beverly Luff Linn (2018)
All The Creatures Were Stirring (2018)
Asher (2018)
Lez Bomb (2018)
A Paris Education (2018)
TransMilitary (2018)
I'd Like to Be Alone Now (2018)
Let the Corpses Tan (2017)
24 Frames (2017) – Criterion Collection
Rockaway (2017)
Spiral (2000)
Office Space (1999) – 20th Anniversary
8MM (1999)
Bent (1997)
Judgment Night (1993)
Nemesis (1992)
Stay Tuned (1992)
Where the Day Takes You (1991)
When Harry Met Sally (1989) – 30th Anniversary Edition
Blind Date (1984)
Silent Scream (1979)
Willie Dynamite (1974)
Street Law (1974) – Special Edition
The House That Would Not Die (1970)
What Ever Happened to Aunt Alice? (1969)
The Heroes of Telemark (1965)
Documentaries
The Human Race (2018)
Queercore: How to Punk a Revolution (2017)
The Captain (2017)
NATURE: Super Cats
Anime
Mobile Fighter G-Gundam Part 2, Blu-ray Collection
Twin Star Exorcists: Part Four
KanColle Kantai Collection: The Complete Series
Human Crossing – Complete Collection
Collections
The Karate Kid 3 & The Next Karate Kid – Double Feature
In case you missed it, here are last week's new Blu-ray releases.