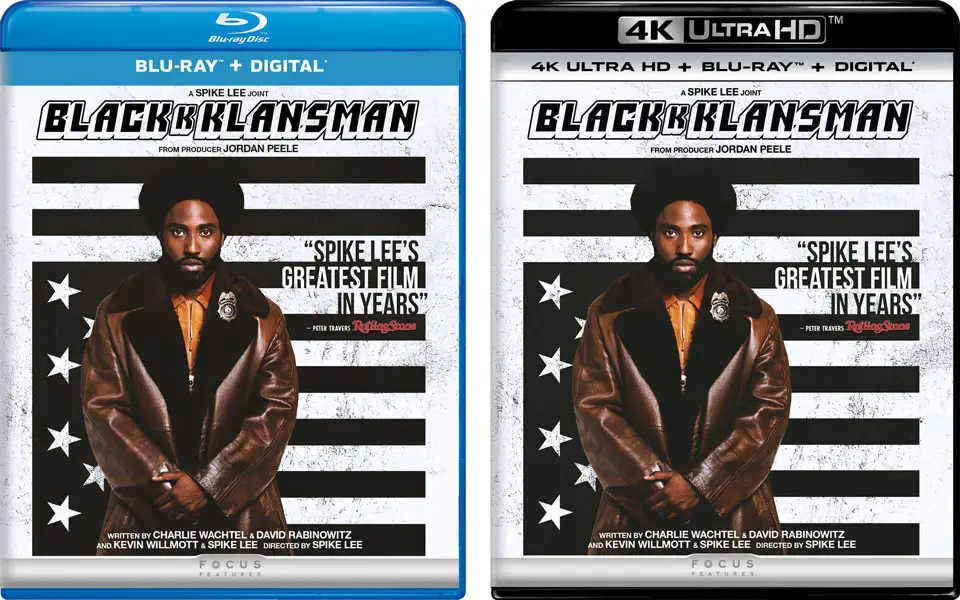 We've got all the details for the disc releases Spike Lee's latest film BlacKkKlansman on Blu-ray Disc, 4k Blu-ray, and DVD. The movie will first hit stores on Nov. 6, 2018, but will be available earlier in digital only on Oct. 23.
English audio on both the Blu-ray and 4k Blu-ray versions of BlacKkKlansman is provided in multi-channel Dolby Atmos, with French dubs offered in Dolby Digital Plus 7.1 and Spanish in Dolby Digital 5.1.
Both Blu-ray versions present BlacKkKlansman in 2.40:1 widescreen aspect ratio (slightly different than the 2.39:1 theatrical format). On 4k Blu-ray the 2160p resolution brings 4x the detail of conventional 1080p video and adds HDR via Dolby Vision.
Bonus features include "A Spike Lee Joint" with Ron Stallworth, Jordan Peele, and cast members who discuss working with the iconic director, as well as an extended trailer featuring Prince's "Mary Don't You Weep"
BlacKkKlansman on is selling for $19.99 on Blu-ray, $24.99 on 4k Blu-ray (List: $39.99) and $17.99 on DVD (List: $29.99). All formats can be pre-ordered from Amazon which guarantees you'll pay the lowest price upon release date.
Special Features:
"A Spike Lee Joint" – with Ron Stallworth, Jordan Peele, and cast members who discuss working with the iconic director
Extended trailer featuring Prince's "Mary Don't You Weep"
Digital Copy with Movies Anywhere