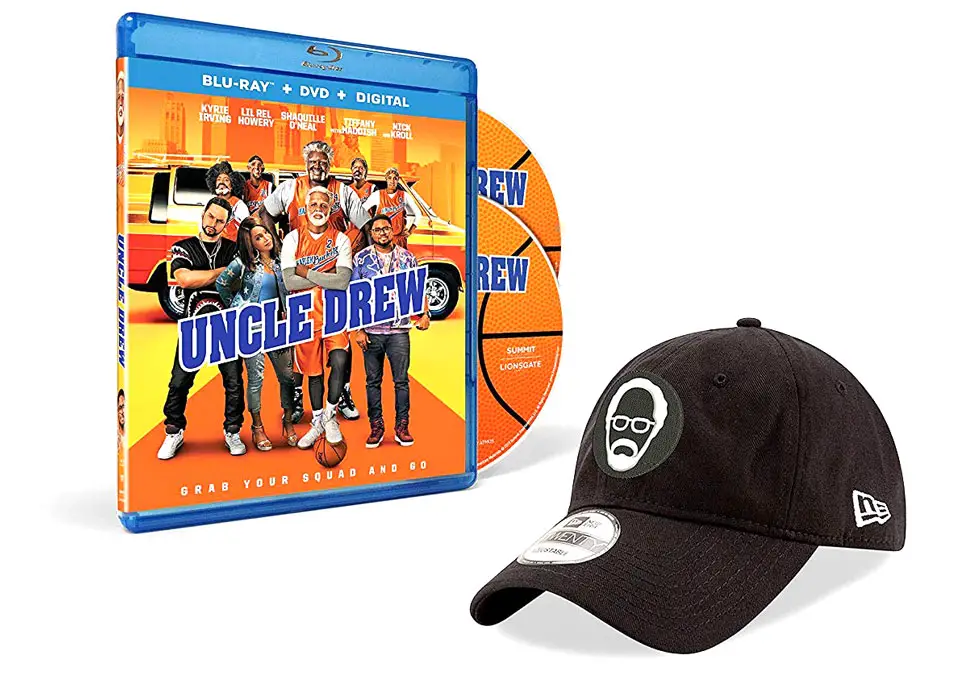 Last summer's hit comedy Uncle Drew will be arriving on Blu-ray, Ultra HD Blu-ray, and DVD on Tuesday, Sept. 25. Along with the standard editions Amazon has put together and interesting combo we haven't seen before — an exclusive baseball hat featuring Uncle Drew himself packaged with the 2-disc Blu-ray edition. The cap is an authentic New Era-brand in all black with Kyrie Irving's "Uncle" character in reverse white. The edition sells for $49.99 on Amazon, which amounts to paying $22 for the hat since the regular Blu-ray combo is currently priced $27.99. They don't have a 4k Blu-ray edition available, unfortunately.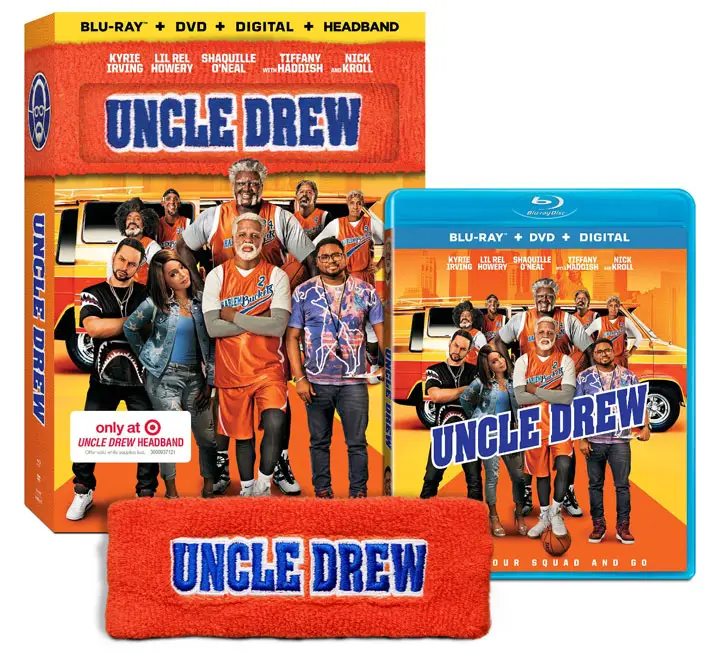 Target will not be undone. They have their own exclusive 2-disc Blu-ray edition packaged with an Uncle Drew headband in orange and blue — surely a collector's item for someone, and even better if you're lucky enough to get Kyrie to sign it! The edition sells for a modest $19.99 and comes with the usual multi-formats of Blu-ray, DVD and Digital Copy. They don't have a 4k Blu-ray version of this combo.
Best Buy has also got an authentic 2-disc Blu-ray SteelBook edition selling for $27.99 that features a minimalist cover with the Uncle Drew icon centered on the cover. The discs are also printed with basketballs on them, which might be an attribute of the common editions as well (until we see one open, we won't know). As of now Best Buy only has the 1080p version in Steelbook, so those of you looking to get Uncle Drew might have to settle for the common Ultra HD Blu-ray edition.
The Common Blu-ray Editions
Amazon, Best Buy, Target and Walmart are among the retailers offering the common, or standard, Blu-ray editions of Uncle Drew. However, the pre-order prices are all over the place. Both Amazon and Walmart are selling the 4k Blu-ray for $24.99 and the 2k version for $27.99 — a pricing arrangement that doesn't make sense but could change at any moment. Best Buy and Target are matched with the common Blu-ray edition priced $19.99 and 4k Blu-ray at $24.99. The takeaway? Don't buy the Uncle Drew Blu-ray/DVD/Digital combo from Amazon or Walmart until the price drops.